Well, this is something.
In today's Q3 earnings call, Meta CEO Mark Zuckerberg shared a quick note about the growth of Threads thus far, and what he sees as the potential for the Twitter-like app.
Here's Zuckerberg's full summary:
"I want to give a quick update on Threads. We're three months in now, and I'm very happy with the trajectory. There are just under 100 million monthly actives at this point, and we're now getting to the point where we're going to be focusing on growing the community further. From what we can tell, people love it so far. I've thought for a long time that there should be a billion-person public conversations app that's a bit more positive, and I think that if we keep at this for a few more years then I think we have a good chance of achieving our vision there."
A billion users. For a Twitter-like app.
For context, Twitter, now known as "X", currently has around 253 million daily actives, and 550 million monthly active users, which is by far its highest ever usage rate.
Or at least, that's what X owner and CTO Elon Musk, and CEO Linda Yaccarino, have reported. But more recent third party analysis has actually pointed to a significant downturn in X usage, as more people shift their attentions away from the app, in light of Musk's changes in approach.
According to analysis from Apptopia, which tracks mobile app engagement across more than 100,000 user devices, X currently has around 121 million daily active users, after suffering significant losses as a result of its recent name change.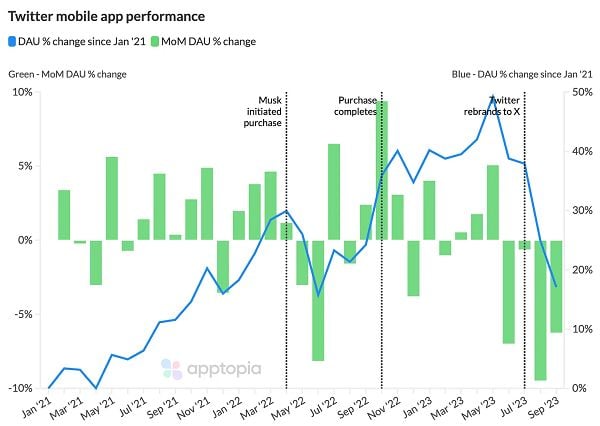 That's daily users, not monthly, so it's not like Threads is right on its tail as yet. But if you extrapolate the data, factoring in the average variation between daily and monthly active users of other social apps, X would currently have around 223 million monthly actives, not the 550 million reported by the platform itself.
Now, that's a big variation, and we don't have full, official data to confirm the figures reported by Apptopia, as only X would have full access. But given the scope of data that Apptopia has available, it would suggest that X usage is now significantly lower than it had been, while Threads closes in on its first 100 million actives.
Instagram chief Adam Mosseri has reiterated the news, and given his own statement on the app's future plans:
"We appreciate the vote of confidence, but we have lots more to do and need to be careful not to be too confident. I'm hoping we can land support for Europe, early Fediverse progress, better Instagram integrations, and trends in the next few months. It'll be telling to see if these build even more momentum."
Threads downloads have increased in recent weeks, following X's decision to change how link previews are displayed, and the war in Israel, which has seen many users looking to follow real time updates.
There are various concerns that X's new approach to content moderation, which is more reliant on crowd-sourced fact-checking, via Community Notes, is allowing more mis- and disinformation to permeate in the app, while the changes to how content is displayed, with paying users getting priority, has also irked many regular readers.
Combine that with Elon's ongoing criticisms of journalists and "mainstream media" publications, and it does seem that Threads' window of opportunity has expanded, with more influential users now looking to distance themselves from the former Twitter app.
It'll be interesting to see how that evolves, and whether Threads can gain more momentum as a result.
But 100 million users is significant. If Threads can hold even that audience, it will likely establish its own niche.