YouTube's looking to lean further into vertical video, with a test of a new full screen viewing experience for live streams in its mobile app.
As per YouTube:
"We're running an experiment with a new full screen viewing experience on vertical live streams for mobile viewers. This new vertical live experience includes a scrollable live stream feed and easily accessible fan funding features. During this experiment, creators can stream vertically, either on mobile devices with the YouTube app or through desktop streaming software, and their vertical streams will be visible to eligible viewers browsing Shorts on the YouTube app."
So, similar to YouTube or IG, some YouTube users will soon be able to view full-screen live content, which is a more immersive, engaging experience in the mobile app,
Currently, YouTube live-streams are presented in YouTube's regular letterbox format, which also puts more emphasis on the live chat, by showing both on screen.
But the new format, which YouTube previewed early last month, will fill the whole screen, with comments overlaid on top.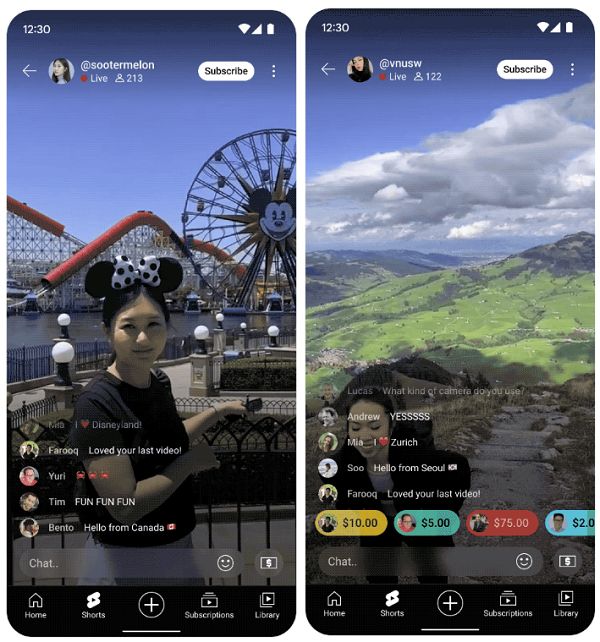 The new full-screen lives will also be shown within the Shorts stream, so like TikTok, as you scroll through, you may come across full-screen live sessions, which you can tap into to engage.
The format is YouTube's latest effort to tap into the popularity of Shorts, which has been YouTube's fastest growing content format over the past two years. Back in February, YouTube reported that Shorts had surpassed 50 billion daily views in the app, and as more people come to the platform for a different type of content, YouTube's looking to lean into that interest with new display options.
Though it's not the first time YouTube has tried out full-screen lives.
Back in 2016, YouTube added full-screen live broadcasts in an effort to keep up, at that time, with Periscope and Meerkat. The initial live-streaming fad was short-lived and YouTube depreciated the option shortly after, though it has continued to enhance its landscape format live streams with more full-screen functionality.
YouTube says that it's launching its new vertical live-stream format in limited testing for now, with further expansion coming soon.