YouTube is further expanding access to its YouTube Partner Program, with creators in more regions now able to access YouTube's creator incentive offering at its recently revised, lower entry thresholds.
Back in June, YouTube announced new, lower qualification requirements for the program, as part of a broader push to win over talent, and get more creators posting more often.
The new thresholds effectively halve the requirements for entry into the YouTube Partner Program (YPP), dropping it from 1,000 subscribers to 500 subs, providing broader access to some of YouTube's monetization features.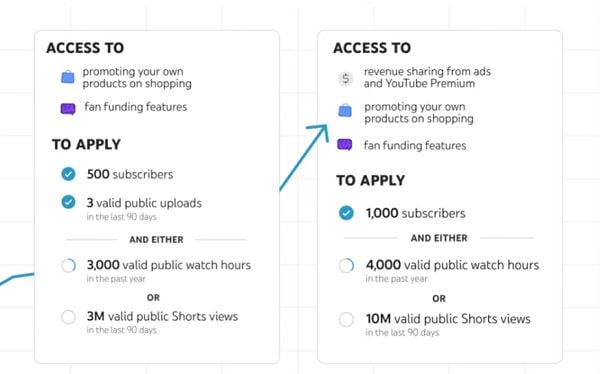 As you can see on the left, the lower thresholds provide access to fan funding and in-stream promotions, but you'll still need to have 1,000 subscribers to qualify for ad revenue share.
So it's not full access, but it does give more creators more ways to monetize in the app.
Which could also help to get more creators better aligned with YouTube, and today, YouTube has announced that these lower entry markers will now apply to creators in 37 more countries, meaning that 99 regions in total now qualify for the new system.
YouTube's eventually planning to expand this to all regions, which will help to facilitate more revenue options for more creators, and could help YouTube fend off competition from TikTok, and others, for talent.
And for more, it's probably worth turning these features, in the hopes of generating at least some income, and growing their YouTube presence.
It's a significant expansion, which could lead to more opportunity.
You can view the full, updated list of eligible regions here, where you can also learn more about entry into the program.