YouTube's rolling out some new options for affiliate marketing deals ahead of the holiday shopping push, including product timestamps in clips, bulk tagging for affiliate products, and new insights into sponsored mention performance.
First off, on timestamps in clips. YouTube's adding the ability to timestamp specific product displays within your videos, so that viewers can more easily skip to the relevant segment.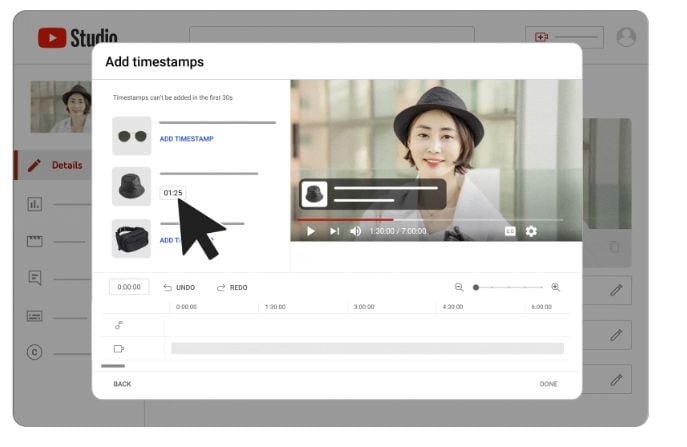 The process will provide more specific matching and display within the playback, while also helping to guide users to relevant discussion.
As explained by YouTube:
"Add timestamps to your tagged products to more prominently showcase a specific product on screen, at the right time! The shopping button will then appear at relevant points in your video – like that close-up shot on your favorite tech gadget or makeup kit you're reviewing. This makes your content more helpful for fans and can increase engagement with the products you've tagged."
It's a more responsive way to show off each product, which also drives better response. YouTube says that in testing, viewers who saw tagged videos with timestamps clicked on tagged products twice as often as videos without the markers. 
In addition to this, YouTube's also adding the ability to tag affiliate products across your video library in bulk, based on products that you've added to the description. That effectively means that you'll be able to monetize not only future mentions of said product, but past mentions that you've also included in your videos.
Which could expand your revenue potential for affiliate deals, depending on traffic to your older content.
Finally, YouTube's also adding new insights to Studio Analytics which will display which affiliate products are driving the most revenue for your channel.
The holiday shopping season is fast approaching, and while YouTube hasn't been able to drive significant in-stream shopping behavior as yet, its additional product display and affiliate marketing tools provide more revenue potential for creators, which can be a significant consideration in this period.
And for brands, it can also provide another way to reach dedicated audiences of specific YouTube channels, with endorsed deals through partnerships with relevant creators.
You can read more about YouTube's latest affiliate marketing updates here.