As X moves to shut down Circles, its more enclosed sharing option, it's also looking to add more functionality to Communities, as a means to facilitate topic-specific engagement, in isolation from a users' regular X identity.
Which makes sense. For years, the former Twitter team had been trying to work out how to encourage people to contribute more to different discussions, with many feeling somewhat limited in their engagement due to how they'd built their presence. For example, if you use X as a professional tool, you've likely built a niche audience based on a specific topic, which can make it feel like you can't contribute to, say, a sports discussion, as you don't want to alienate your followers.
Add to this the rising shift away from public posting, and towards more private DM groups, and more niche communities makes sense, though it remains to be seen whether Communities itself will be the real solution for X on this front.
But X is certainly going to give them a push.
According to a new update from the X team (via X News Daily), several new Communities features are coming soon, including:
Private communities

Improved reporting

Improved spam controls
X also recently announced pinned communities and community search tools, providing more ways to use the topic-focused engagement option.
The renewed focus on Communities could also see X undertake a re-launch of sorts, as a means to highlight how beneficial Communities can be, in facilitating a broader range of interactions in the app.
That, ideally, will drive more take-up, though Communities, thus far, hasn't been a major hit for the app.
Twitter originally launched Communities back in 2021, with the stated intent to "connect with people who Tweet like you."
"Some conversations aren't for everyone, just the people who want to talk about the thing you want to talk about. When you join a Community, you can Tweet directly to that group instead of to all your followers. Only members in the same Community are able to reply and join the conversation so it stays intimate and relevant."
Again, with the broader shift towards more enclosed discussion, Communities is a logical addition. But the more open nature of X, as a "global town square", also runs counter to the Communities ethos, and it's that mismatch that does seem to have limited Communities take-up thus far.
As an alternative, many people have turned to creating entirely separate X profiles instead, in order to engage in different discussions, something that Facebook acknowledged last week, with the addition of new community profiles, stemming from your main presence.
So rather than trying to drive users towards topic-specific engagement, Facebook has recognized that users may want to create alternate personas, and manage their presence that way.
Twitter, at one stage, was considering similar, through a more centralized process that it called "Facets."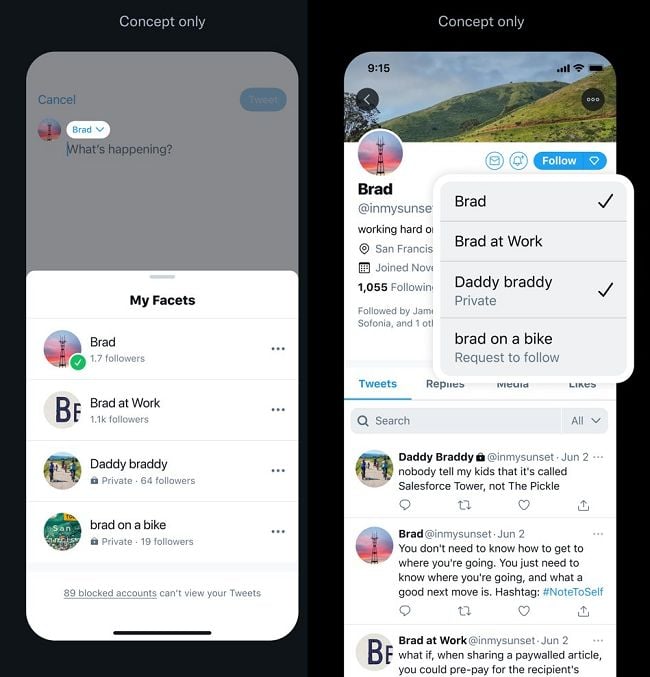 As you can see in this example, Facets would enable users to follow certain topical tweets from a user, without having to see their posts on other things.
That, potentially, could be a better solution than trying to herd conversations into specific communities, enabling more posting freedom in the app. The key hurdle, however, is that users would then need to add a topic filter to each of their posts, and maybe, the X team felt that this additional friction wouldn't work in a practical sense.
But clearly, X wants to drive more niche discussion, and get people posting about more topics in the app. I'm not sure what the best way forward is on this, but maybe, through a revamped, re-launched Communities, that could drive new interest.
It seems, either way, that we're going to find out soon.