X is making it much easier to report rule-breaking content in the app, with an improved reporting flow that now makes it much easier to specifically highlight your concern, in just a few clicks.
As you can see in this example, the new X reporting flow now gives you more specific violations to choose from when reporting a post. Once you select the main issue, you're then given a second, more specific checkbox screen for that topic. You can then submit your concern, simplifying the process.
Once your report is logged, you'll then be shown this screen highlighting possible actions you could take to limit any further harm.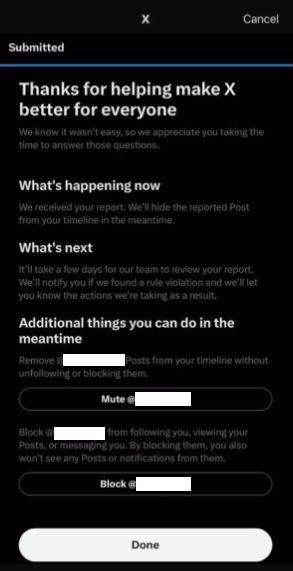 The process will also give you an overview of next steps, and what the X team will consider when reviewing your report.
It's a much more streamlined way to submit reports of concerning posts, which could help X address some key areas of concern faster, and improve response.
Though that also comes down to internal resources, which X is also looking to build on.
According to Elon Musk, X is also improving its internal workflow for user reports, updating the previous process which he's described as "a Kafkaesque nightmare". Musk says that the company is also adding more resources to review user reports.
Addressing violative material, particularly child abuse related content, has been a key point of emphasis for Musk, while he's also vowed to provide more transparency in the platform's decisions, to avoid X management making questionable calls on content.
Musk is also dedicated to applying a more "free speech" approach to moderation, and in combination, the simplified reporting flow, along with enhanced transparency, and increased staffing to deal with reports, should drive improvements in its process.
The question then is whether X is actually doing enough to address key areas of concern. Various reports have suggested that hate speech incidents are on the rise in the app, while some have also questioned whether Musk and his X team are doing as much to address CSAM content as he's portrayed.
It does seem surprising that, within a few months, Musk could have somehow solved many of these key issues that have challenged social platforms for years, through seemingly simple solutions. Though without external oversight, which has also been limited by X increasing its API costs, there's no way of knowing exactly what's happening in the app.   
Either way, this new reporting flow does look like an improvement, which should lead to more direct reports being submitted in the app.