As X looks to lean more into video content, as a means to drive more engagement, it also needs to improve video discovery. That's especially true for live broadcasts, because while followers might see a tweet (sorry, post) letting them know that a user they follow is streaming, if they miss that, there's currently no alert or indicator to keep them updated on in-progress streams.
Now X is looking to correct this, by potentially using Spaces like alerts for live video streams as well.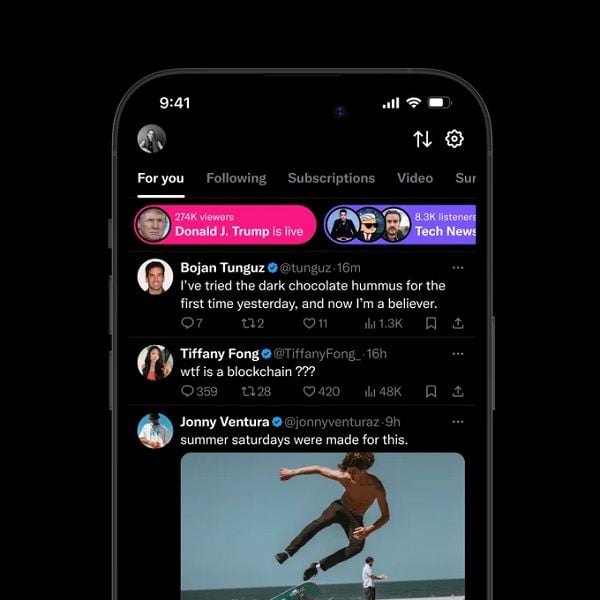 As you can see in this example, shared by X designer Andrea Conway, live video broadcasts may also soon be displayed at the top of user timelines, like Spaces, helping to highlight in-progress broadcasts to more users.
Which is not a huge technical change, and may require some explaining (most users will assume that these are still just audio broadcasts). But it would be at least one way to better showcase live video content, and with X also looking to put more emphasis on live-streams, that could be an important, and valuable addition.
But it feels like a half measure, a minor step towards improving the video experience, as opposed to, say, adding a full-screen video feed as a swipeable tab, or even opening to a video feed, with users then switching across to their regular post feed.
That would be a radical change, but if X really wants to make video work, it definitely needs to guide more users towards its video content. And I'm not sure that this update, if it is rolled out, is going to do it.
But I do think that this could also be a question of capacity, and what X is actually able to do with far fewer staff.
The X team has repeatedly touted its massive list of innovations and increased update velocity since Elon Musk took over at the app, but the vast majority of those had actually been in development for months, and even years, before Musk wandered into the building carrying a sink.
Because of this, while X has rolled out a lot of things, it actually hasn't built many new elements from scratch, and it'll be interesting to see now, with all of its old, shelved projects launched, what the X team can do with a much smaller team.
You would assume that most of the remaining staff are simply focused on keeping things running, which could make actual, large-scale development difficult, and with that in mind, maybe repurposing other elements is the best that X can currently do to boost discovery.
It also makes it a less-than-ideal time for X to be pushing people to pay $8 per month to use the app, as it's not improving as a service. But then again, the chance to make money from your posts will be a lure in this sense, and most of the current X Premium subscribers are supporters of Elon Musk, and his ongoing mission to secure free speech in the app. Which, in Musk's view, seems to be the right to insult people and/or make whatever false claims you like, without consequence.
The point is, this is not a massive change, and it's unlikely to be a real driver of increased video consumption in the app, which is seemingly what X is aiming for with its new push. A bigger update is likely needed to really change user behavior in this respect, but maybe, X is not currently able to implement a more significant process.