According to X CEO Linda Yaccarino, the platform is now on track to turn a profit by early next year.
Which sounds amazing in broader context, given that the company formerly known as Twitter has struggled to reach profitability at any stage in its 17-year history. But X's reformed approach, along with massive cost-cutting could now have it on track to establish a firmer footing, at least based on Yaccarino's estimates.
Yaccarino made the statement in an appearance at Vox Media's Code Conference in California this week, where she was a headline guest of the event. Yaccarino's appearance has been described by some attendees as stand-offish, even confrontational at times, particularly when Yaccarino was pressed on X's performance, and specific engagement stats. But according to Yaccarino's statements, X is going well, despite not having exact targets or data in mind.
Yaccarino was also questioned about Elon Musk's reported plan to implement a charge for all users in the app, which Musk has at least partially denied.
Last week, in an interview with Israeli Prime Minister Benjamin Netanyahu, Musk said that:
"The single most important reason that we're moving to having a small monthly payment for use of the X system is that it's the only way I can think of to combat vast armies of bots. Because a bot costs a fraction of a penny, or a tenth of a penny, but if somebody even has to pay a few dollars or something, some minor amount, the effective cost of bots is very high, and then you also have to get a new payment method every time you have a new bot."
So Musk didn't directly say that X would start charging all users anytime soon, but it is somewhat implied, while Musk has also previously noted that an industry shift to paid social is "inevitable," and that, eventually, in his view, "paid account social media will be the only social media that matters."
In combination, it does seem like X has at least floated the concept of a full paywall for the app, while Platformer also reported last year that Musk had held internal discussions about this as a potential option.
Elon also hasn't outright denied this, though he did re-share a post which clarified that he had only said that X would offer a lower-priced version of X Premium, not that all users would be charged to use the app.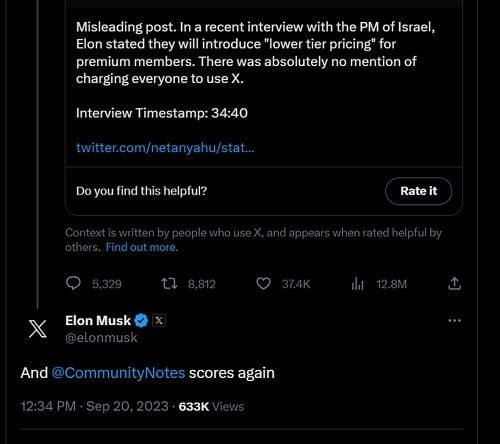 That isn't a direct denial either, it simply clarifies that he didn't state that all users would have to pay, as some had reported.
And evidently, Yaccarino wasn't 100% clear on this either.
When questioned by CNBC's Julia Boorstin on the possibility of X charging a fee for all users, Yaccarino first asked Boorstin to repeat the question, then asked whether Elon had actually said that this would happen, or whether he'd thought about it as an option. Boorstin then asked Yaccarino if she'd spoken to Musk about the possible plan, to which Yaccarino said that she talks to Musk about everything. Then she offered no further insight.
It was an odd exchange, which made it seem as if Yaccarino wasn't entirely sure of the possibility of such, and didn't want to go on record denying it, in case Musk was looking to implement it.
Which many have highlighted as an example of Yaccarino's lack of autonomy, with Musk really calling all the shots, and making all the calls, even in relation to ad policies, which is seemingly Yaccarino's focus.
Still, Yaccarino says that advertisers are coming back to X, with 90% of the platform's top 100 advertisers now resuming ad spend, despite concerns around Musk's newly implemented policies on free speech and divisive content.
In a separate interview with Ben Shapiro, Elon also defended his platform's approach to addressing anti-Semitic content, noting that despite third-party reports, anti-Semitic posts in the app are actually down 30% since he took over.
Musk also provided additional insight into how X now polices such content, while also noting the challenges of such while taking a more free speech based approach. In Musk's view, he explained, more exposure to such content can actually be beneficial in some respects, as it then enables other users to address and debunk such statements. But that may also mean that X is allowing more of this type of material to remain in the app, which could be as a result of X changing the definition of what qualifies as "hate speech" in this respect.
As we've noted before, while X claims that hate speech is down in the app, it's actually altered how it assessed such, based on an independent assessment of slur terms in context, which found that the vast majority (86%) of slurs posted in the app are actually used in a non-harmful way. Which seems questionable, but that's what X is going with, which may put its 30% reduction claim into some context.
That may be what's put X on a collision course with groups like the Anti-Defamation League (ADL), which, in its assessment, has found that hate speech is rising under Elon's watch. It seems, for the most part, that each group is likely assessing such in a different way, which could be why X's data is at odds with external analysis.
Interestingly, Elon also challenged anyone who can refute its data to provide the evidence. But X could do that too, by sharing its own full studies which support its own findings.
Within this, and amid Elon's own increasingly political posts, Yaccarino is having to win over ad partners, and assure them that brand safety remains a key focus for the app. Which, based on her assessment of future profitability, does seem to be working, though it remains a tough position.
And while X may reach profitability, its actual intake will likely be a lot less than it had been in the past, considering that it's also reduced its outgoing expenses by such a big margin. Culling 80% of staff, getting rid of data centers, and shutting down regional offices, while also upping the price of its API access, will cumulatively have had a big impact on its overheads.
In Q2 2022, the company's last full performance update, X reported $US1.18 billion in total revenue, with total costs coming in at $US1.52 billion. Staff costs at that stage were $950 million, so clearly, X is already likely to be way down on that expense, reducing its profitability target considerably.
At a rough estimate, factoring in all reductions, in order to reach profit, X will likely need to bring in around $600 million in the first quarter of next year to reach profitability. So while getting back to making money is obviously the key, it's also worth noting the variance here, in comparison to where the company had been before the takeover.
Basically, bringing in less than this would be a very bad sign for X's growth plans.
But in essence, nobody really knows what to believe about X at this stage, because even Elon and his own CEO don't seem to be able to get their story straight between themselves. Yet, for the most part, they do seem to be in alignment, which could mean that X will return to profit, sometime soon.
And while the expectations for that actual profit itself should remain low, it could establish a more sustainable foundation for the platform to really begin its "everything app" push, in a more sustainable and streamlined manner.