Hot on the heels of reports that Meta may be considering an ad-free subscription option for both Facebook and Instagram, TikTok is now also experimenting with a paid, ad-free experience, according to new code spotted in the app, which includes a basic overview of its coming ad-free experiment.
As per the above screen, shared by Android Authority, TikTok is seemingly looking to charge users $US4.99 per month to eliminate ads from their TikTok experience. Well, it looks like US dollars, based on AA's discovery, but it could also relate to other currencies and payment markets. But the bottom line is that TikTok is at least considering offering an ad-free version, for a monthly fee, joining Meta, and potentially X, in providing an ad-free experience tier.
Further findings in the back-end code spell out the option more clearly:
"We are testing an Ad-free plan with the TikTok community. By continuing, you agree to the [terms], and acknowledge that you have read our [terms] to learn how we collect, use and share data. You also accept the immediate provision of the Ad-free subscription."
So why are apps looking to implement ad-free versions now?
Well, in Meta's case, the experiment relates to evolving E.U. digital privacy regulations, and the capacity for social platforms to collect and utilize user data.
Under the E.U.'s new Digital Services Act (D.S.A.), European users will soon be able to opt out of all personalization that uses their data to customize their experience. That includes ads, and Meta's concern here is that less data insight will lead to a lesser user experience, which could then see people using its apps less as a result.
As such, offering a paid, ad-free version could actually be a better alternative, so that E.U. users aren't getting more random promotions in the app, which could harm the user experience.
X owner Elon Musk has also been discussing a higher-priced, ad-free tier of X Premium for some time, though that's less tied to E.U. changes and more linked to X's push to maximize subscription take-up, in order to combat bot armies, and expand its revenue potential.
But essentially, every app is seemingly looking at its options on this front. And while they may be prompted by E.U. changes, ad-free options could also be expanded beyond European markets, giving social platforms more ways to expand their revenue streams, independent of broader ad market impacts.
Though the pricing here is difficult. For example, Meta reported in Q2 that its average E.U. revenue per user is $US17.88, though for U.S. users, its ARPU is $US53.53.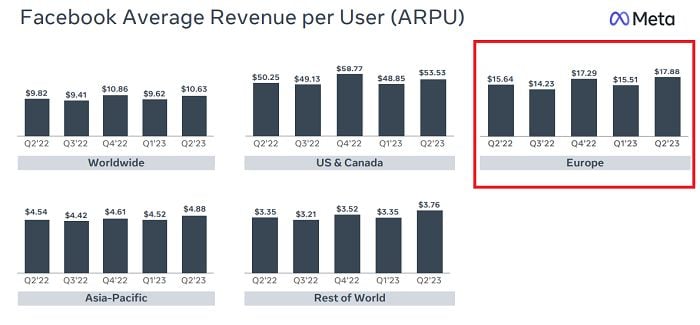 That's a significant variance, and it'll be hard for Meta to price their ad-free offering at a level which replaces that ad exposure intake, and is equitable across regions.
TikTok would be looking at much different calculations, due to the more evolved nature of Meta's ad business. But the calculation is essentially the same, in that the price the platforms charge for an ad-free version needs to offset the amount they'll lose in direct ad exposure. And they then need to maintain balance in each, in order to maximize ad reach, and entice ad partners, while also ensuring they don't lose money in the process.
It's a difficult calculation to get right, which varies across markets. But maybe, at the right price point, there is a way for platforms to make more money from a dual income approach, while also offering another alternative for users.
It does seem, however, that it's more beneficial, overall, for the platforms to keep the ads coming, as opposed to augmenting their income with subscriptions.
The new E.U. regulations do change this somewhat, but outside of Europe, it may not be worth the platforms exploring this as an option, at least not at this stage.
But maybe, that will be the future.
Maybe, as Elon Musk has noted, paid social will eventually be "the only social media that matters", due to the influx of AI bots and other intrusive elements that'll disrupt the user experience.
It seems that, at the least, the major platforms are considering their options.