TikTok has marked its latest milestone in AR development, with its Effect House AR studio for creators now coming out of beta mode after more than a year of development.
Much like Snapchat's 'Lens Studio' and Meta's 'Spark AR' platform, TikTok's Effect House enables creators to build their own AR effects for the app, with a range of templates and tools available to facilitate the process.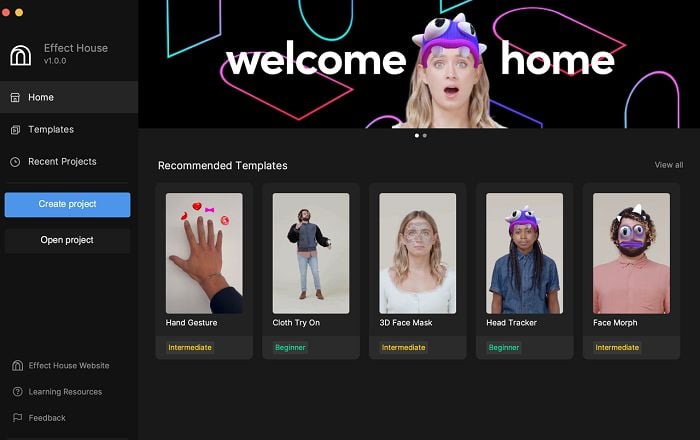 And the advanced AR platform has already sparked significant interest and usage.
As per TikTok:
"Since launching version 1.0 in 2022, effects made by Effect House's community of creators have inspired more than 21 billion videos, garnering more than 8.6 trillion views globally and bringing together more than 400,000 members on the Effect House Discord."
TikTok actually launched the initial version of Effect House with selected developers back in 2021, as an in-app tool, which was eventually expanded into the separate Effect House platform that's now being used by creators.
Which is a great way for TikTok to maximize its potential to tap into the latest trends. By expanding its creative insight beyond its in-house team, that then enables TikTok to get a broader range of effects into the app, which increases its chances of tapping into the next viral hit.
Snapchat has long been the leader in this respect, with virtually every AR trend of the past decade stemming from Snap. But TikTok's popularity also sees it well-placed to become the originator of similar hits, which is no doubt a key lure of its Effect House offering.
And based on these numbers, there's a lot to like, and a lot of opportunity to reach users via AR effects in the app.
Marking its latest development, TikTok has also provided an overview of the more than 20 new elements that it's added to the platform, including generative effects, media texture tools, an expanded asset library, and more.
TikTok's also provided new pathways for creators to make money from their AR creations, including its New Creator Bonus, its $6 million Effect Creator Rewards program, and its Branded Effect Closed Beta.
AR is a key area of focus, especially as we move towards the next stage of AR-enabled glasses, and digital overlays that will eventually change the way we interact with the world.
We're still a way off from that next-level vision, but by facilitating the creation of immersive, three-dimensional digital elements, that will ensure that social platforms are well-placed, either for the eventual AR shift, or the VR metaverse push.
Both technologies are complementary, which is why it's important for all platforms to keep pace with the latest developments.
And by facilitating AR creation, TikTok's taking the next steps, which could see it strengthen its foundations for enduring success.
You can learn more about TikTok's Effect House here.