This is interesting.
Under the EU's new Digital Services Act (DSA) regulations, large online platforms, including the biggest social apps, now need to provide regular updates on their active users in the EU region, along with various other key transparency updates.
Which TikTok reported this week, providing new insights into how many people are using the app in European nations, which could assist in your content planning.
You can check out TikTok's full DSA Transparency Report here (and thanks to Xavier Degraux for the heads up on the update), but in this post, we'll dig into the data, and share some of the key notes.
The full report outlines TikTok's approaches to content moderation and information requests, and includes insights into the specific violations that TikTok has had to action, with "Sensitive & Mature Themes" being by far the biggest driver of removals in the app, with almost 2x more reports than the next most reported element ("Regulated Goods & Commercial Activities") .
There's also a full count of the amount of moderation staff TikTok has working in the EU (6,125), and an overview of the average time that it's taking TikTok's team to respond to reports and appeals.
But this may be the most interesting element, in a broader contextual sense: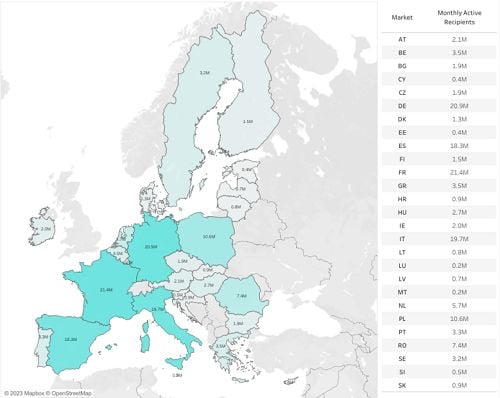 As you can see in this image, TikTok has provided a full overview of its current audience in the EU, with a breakdown of users by region.
In the EU, TikTok currently sees the most active usage in France, with 21.4 million users. Germany has 20.9 million MAU, while Italy has 19.7 million users.
The chart provides some interesting perspective on TikTok's relative growth, and where it's generating the most interest.
And when you also consider that TikTok has 150 million users in America (as TikTok reported back in March), that means that 285.9 million TikTok users are in the U.S. and EU regions.
Which, considering that TikTok has a billion users, means that there are a lot in other nations.
TikTok reportedly also has around 100 million users in Indonesia, 83 million users in Brazil, and 55 million in Russia. The other 500 million or so would be spread across several smaller markets, but the figures do suggest that TikTok is unlikely to have exceeded a billion users at this point.
Some analysts had predicted that TikTok would exceed 1.5 billion users last year, but based on these numbers, it's unlikely to have come close to this as yet.
Which is interesting in itself, in that TikTok's meteoric growth may have slowed, or could have even been reduced due to reports of the company potentially sharing user data with the Chinese Government, which has also seen it banned, in varying capacity, and in various regions as a result.
Indeed, the numbers could indicate that TikTok now actually has fewer than a billion users, a milestone that it first reached two years back. Despite its huge popularity, it could be that TikTok's usage has declined, which is something to watch moving forward.
Of course, this is all relative, and the actual total reach of an app isn't directly relevant to most marketers, who only really need to know if their target audience is active in the app. And the above breakdown could provide more insight on that, which could help in your strategic planning.
Or it may be just be a point of interest, but either way, it's valuable data to have, which is an advantage of the new DSA reporting process.