TikTok has published a new guide for eCommerce brands that are looking to get started in the app, with a full overview of the key steps to launching a TikTok ad campaign.
As per TikTok:
"Whether you're an established online retailer or just getting started selling direct-to-consumer, finding your next customer can be challenging. Good news: your next customer is shopping on TikTok. This step-by-step guide will help you find them and increase your online sales."
You can download the full guide here (with e-mail sign-up), but in this post, we'll take a look at the key notes.
First off, the guide outlines all of the key steps required in order to create your TikTok campaign.
As you can see here, the guide covers off on all the key steps for retailers to get started, and includes references to other TikTok elements, like Spark Ads, to assist in your process.
The guide then provides a step-by-step checklist of each required element, so you can easily cover off on each.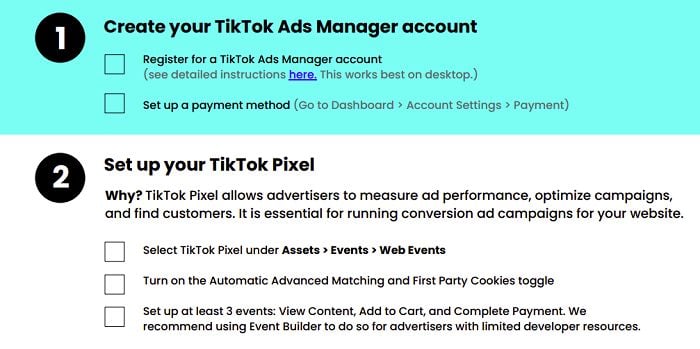 You can see here that the guide provides fairly in-depth explainers of exactly what you need to do, which could be a big help for those just starting out.
Finally, the guide outlines what happens after you launch a campaign, and how you can further enhance your in-app presence.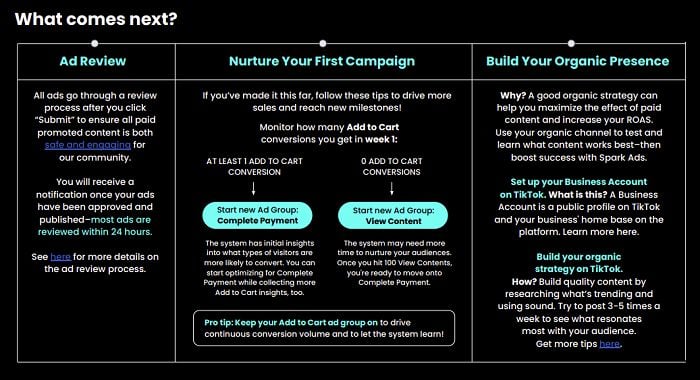 It's a handy overview, covering off on all the core elements, which will help you get started with TikTok ads. In addition, there are also some case study notes and additional pointers to guide your planning.
It's a good, simple overview of the process, which could be a big help, especially if you're looking to try out TikTok ads this holiday season.
You can download TikTok's new guide here.