Are you excited for Halloween?
The spooky season hype is growing, and with that, many brands will also be looking to get in on the action, by creating themed promotions that aim to link into the Halloween trend, and drive more shopping activity.
To help with this, TikTok has published a new overview of Halloween marketing insights and tips, to help get your in-app activations on the right track.
You can download TikTok's full Halloween guide here (with email sign-up), but in this post, we'll take a look at some of the highlights.
First off, TikTok provides an overview of Halloween engagement, and how TikTok has helped some SMBs drive more activity during spooky season.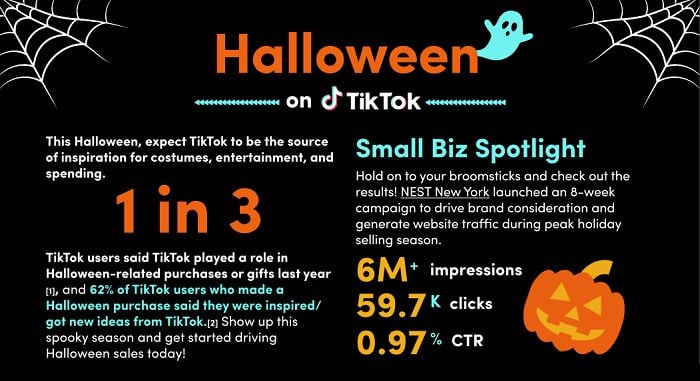 The notes on the influence of TikTok on Halloween trends is significant, though not really a surprise, given the popularity of the app. If you're looking to get a feel for what's trending this season, TikTok would be a good place to start, though as you can probably guess, Barbie-themed costumes will likely be dominant.
TikTok's also shared some tips on how to get started with your Halloween campaigns, which are largely centered on working with creators and inspiring UGC.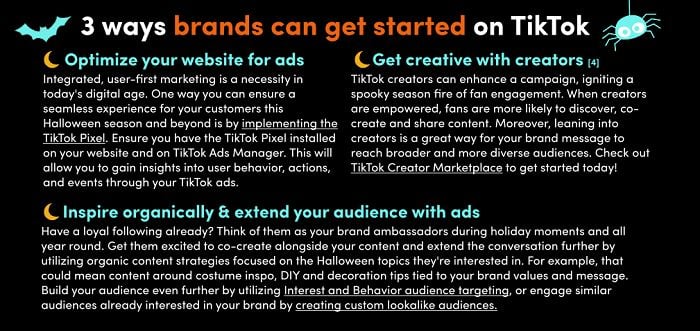 Which is a key growth focus for TikTok, with the more interactive focus of the app helping to drive more participatory trends. As such, enabling your audience to take part in the same can be a key driver of in-app marketing success.
Tiktok's also shared a listing of the top Halloween hashtags in the app:
#halloween
#happyhalloween
#spookyseason
#halloweenlook
#halloweencostume
#halloweenmakeup
#halloweendecor
#trickortreat
#halloweenseason
It's a simple, but handy overview of some of the key Halloween trend notes and pointers, which could help to guide your Halloween marketing efforts.
You can download TikTok's 2023 Halloween Marketing Playbook here.