After announcing that EU users would soon be able to opt out of algorithmic personalization in the app, as part of its Digital Services Act (DSA) compliance, TikTok has today outlined various other steps that it's taking to meet the updated DSA regulations.
The EU DSA, which comes into effect soon, is designed to ensure that user rights are better protected, particularly in relation to the use of personal data, while also enabling businesses to operate "on a level playing field" within the digital space. As part of this, each platform now needs to provide more insight into how they use data, and enable EU users to opt out of such, if they choose.
In addition to switching off personalization, and reverting users to a "popular" content feed (based on regional trends), TikTok has also launched a new EU Online Safety Hub, which will provide a full overview of TikTok's DSA compliance elements, and reporting on each.
As you can see, the new EU Safety Hub will provide access to all of TikTok's reporting and transparency measures, including insights into how its algorithms work, its content moderation processes, data on ad targeting, and more.
It's a handy overview of all of TikTok's various measures, though most of the segments link back to existing Help Center articles, so there's not much new insight, as such.
TikTok's also adding a new illegal content reporting option in the app, which will enable people to report content that they believe is in violation of EU rules.
"Any reported content will be reviewed against our Community Guidelines and ad policies, and removed globally if found to violate our policies. If it does not, our new additional dedicated team of moderators and legal specialists will assess whether the content violates local law and access to that content will be restricted in that country."
TikTok's also expanding its ad library to include more information about campaigns in the app.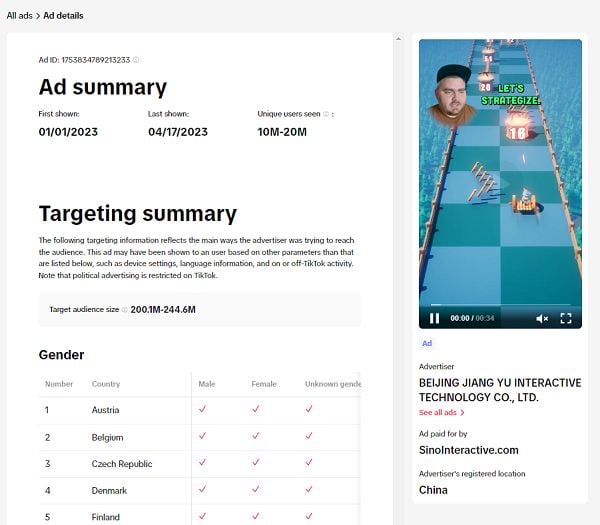 As shown in this example, when you tap through on a campaign's details, it'll now include more insight into ad targeting specifics, including all the demographic and interest parameters applied, as well as where the ad has been shown throughout the world.
Finally, TikTok says that it's also added more ad labels to increase promotional transparency.
"The label options include: "ad/sponsored" (content paid for by advertisers); "paid partnership" (a commercial partnership between an individual and a brand); or "promotional content" (organic content by an individual/ business that is used to promote their own brand, product or service)."
The DSA has already had a big impact on how platforms report their data usage, and it'll be interesting to see whether the added notes will change how people allow apps to track and utilize their information, if indeed it leads to any change on this front.
More information is better, no doubt, but options like switching off the algorithm are likely more attractive in theory, similar to switching off ad personalization. Like, you're going to be shown ads anyway, so it's probably better to have more personalized, customized outreach, but at the same time, it makes sense that users should have the option to control how their information is used.
And for brands, these new measures could also offer a range of new insights into competitor approaches, ad targeting options, etc.
That's not really the intention, but the increased data access could help to inform your own strategies, by showing you what the top brands are doing to reach people in the app.
You can learn more about TikTok's DSA compliance efforts here.