TikTok's eCommerce push is about to be squashed in Indonesia, a key growth market for its in-stream sales push, due to concerns around the impact of TikTok's shopping tools on the local market.
So it seems like the perfect time to be launching a new in-app wallet, as a centralized payments tracking platform, which also includes TikTok's own in-app currency.
That won't spook local regulators at all, right?
Broader context aside, TikTok is indeed now testing a new in-app wallet in some regions.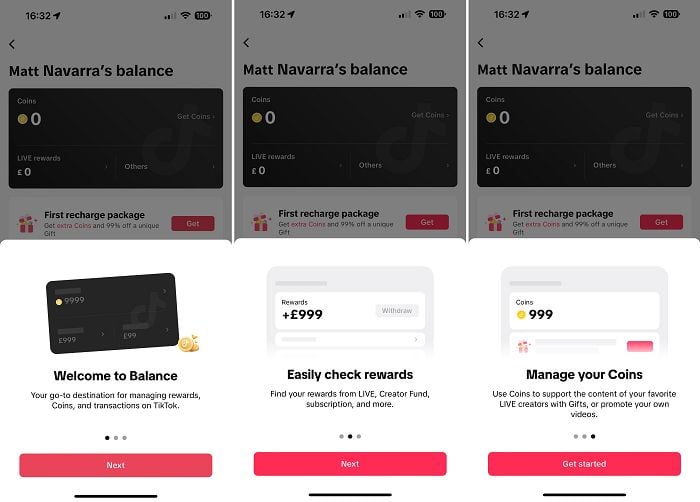 As you can see in this example, shared by social media expert Matt Navarra, the new TikTok "Balance" element is a centralized account tracking platform, where you'll able to get info on all of your in-app transactions, Coins, rewards, etc.
TikTok Coins are the platform's own in-app currency, which you can exchange for virtual items that you can then award to your favorite creators in the app. At present, you can't do a lot else with them (aside from boosting your own clips), but like Meta's Stars, TikTok could look to build on this as an alternative currency, which would enable users to make purchases with Coins in its new shopping elements.
As such, adding a centralized tracking element for all of your TikTok money and purchases makes sense. However, the framing of it, including the TikTok credit card visual, will likely raise concerns among some groups who are already worried about TikTok providing a gateway for Chinese businesses to eat into the local economy.
Which, as noted, is the chief concern among Indonesian officials.
TikTok's live-stream shopping elements have quickly gained momentum with Indonesian users, but some Indonesian regulators believe that the rise of TikTok could hurt local businesses, through predatory pricing, which could also flood the market with Chinese products. So it's now moving to ban all social apps from enabling in-stream commerce, which further underlines the challenges the big platforms have had in integrating commerce elements.
Though clearly, TikTok is still pushing in this direction.
The biggest driver of TikTok's revenue growth in China (where the app is called "Douyin"), has been in-stream commerce, with live-stream shopping, in particular, seeing big success. TikTok's parent company ByteDance has been using that as a template for its expansion into other markets, but thus far, Western consumers haven't warmed to its shopping options, while regulators in developing markets, like Indonesia, are carefully monitoring the app's progress.
Which is a key flaw in this plan. While TikTok has seen success in China, that's largely unique to the Chinese ecosystem, which is monitored and maintained by the CCP, facilitating more trust in in-app transactions and engagement.
But just as Western authorities are concerned about the CCPs links to TikTok, other regional governments are also cautious, while they're also keeping tabs on US-based apps as well, as the overall influence of foreign-owned businesses expands.
As such, facilitating payments, transactions, shopping, all of these things are under scrutiny, and in most cases, are heavily restricted, in order to limit the impacts on local markets.
But the addition of this new payments platform suggests that TikTok's going to make another push in this direction either way, as it continues to provide assurances to various governments about its intentions.
Will that be enough? We'll have to wait and see, but expect to see TikTok continue to try out new payment and shopping elements moving forward.