Meta's Twitter-esque Threads app is adding another key feature, with the Threads team to begin testing keyword search with users in Australia and New Zealand from this week.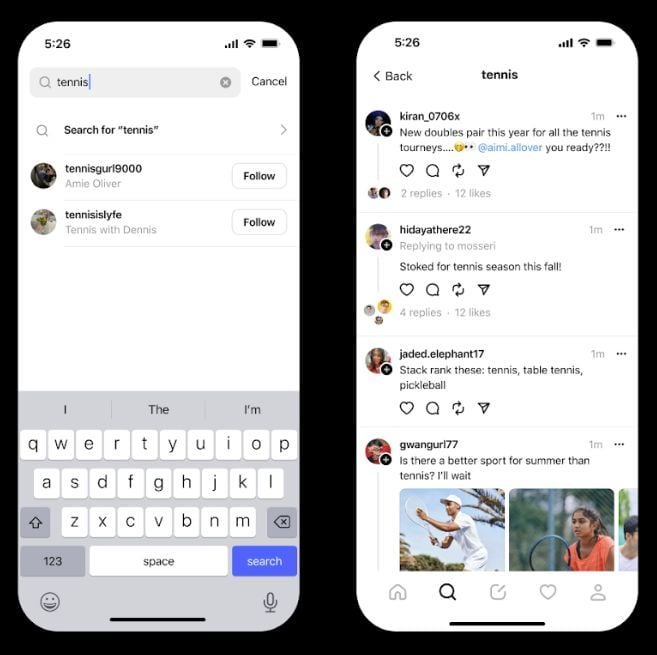 As you can see in this example, and as you would expect, keyword search on Threads will show you all of the posts that mention your chosen terms, in addition to the current search results, which only return relevant usernames.
Which is obviously a key update, and a functional addition that's required to bring into UI parity with basically any other social app. But the Threads team launched early, in order to capitalize on the demand for a Twitter alternative, in light of Elon Musk's changes at the app, which means that while Threads works as a basic alternative for now, it is missing several key elements.
Search, of course, is one, but it's also missing API accessibility, which would enable post scheduling and other options, while just last week, Threads launched its web app. Threads is also still not available in EU, and likely won't be for some time yet.
So yes, functionally, as many have pointed out, Threads is not all there yet. But again, the Threads team felt that their window of opportunity may be closing to launch a competitor app, so it opted to go early with a basic version, and build from there.
Was that the right decision?
In recent weeks, Threads usage has steadily declined, as reported by third-party analytics providers, while Threads downloads have slowed to a crawl after its rapid ascent to 100 million members.
It could be that, in going early, with fewer functional options, Threads has actually risked winning more potential users, by giving them a sub-par experience at first blush.
That could end up being a significant problem for the app, but then again, the fact that 100 million people were so keen to sign up to the app initially shows that there is demand for a viable Twitter/X alternative, and Meta, more than anyone else, has the capacity and experience to build it, and make it work.
So long as users keep coming back to the app.
First impressions, as we're always told, matter, and the hope is that Threads hasn't lost people with its early iterations, as it continues to refine the app offering.
Personally, I do find Threads useful, and the conversation there lively. But it is also still fairly bare in comparison to other apps, both in regards to features and posts.
Maybe it's just a matter of time, and hopefully, going too early doesn't end up hurting Threads' potential moving forward.  
Threads keyword search is being rolled out to users in Australia and New Zealand from today, with further expansion coming soon.