After launching keyword search on Threads with users in Australia and New Zealand last week, Meta's now expanding the functionality to more markets, and in Spanish, with users in Argentina, India, Mexico, the U.K., and the U.S. set to be able to conduct keyword searches in the coming days.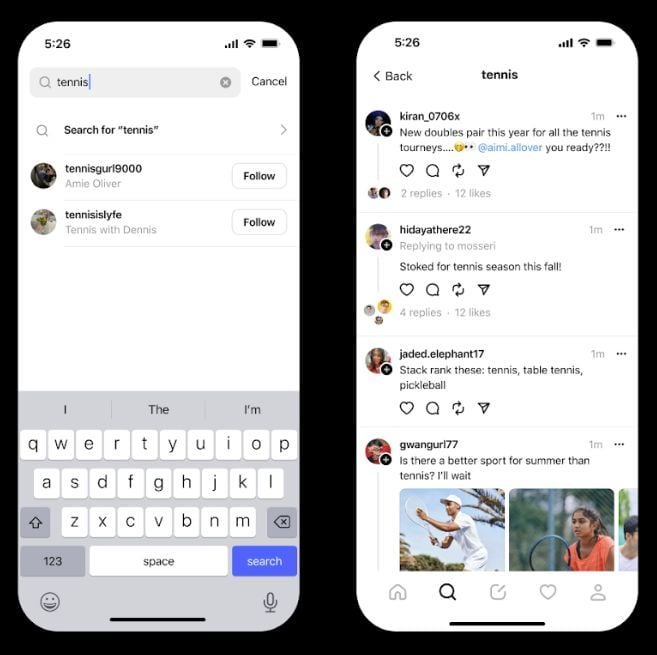 Keyword search is a much-needed functional addition to the Threads experience, enabling users to search for more than just user handles, which will expand the utility and value of the Twitter-esque app.
Keyword search has been one of the most-request app updates, though given the bare bones approach that Meta has taken with the initial build of the app, it's one of many elements that it's been found to be lacking, which may have impeded initial take-up of the platform.
Threads raced to 100 million sign-ups in record time, highlighting both the interest in the new app, and potentially, the desire for a Twitter alternative. And as Elon Musk continues to transform what was once Twitter into his "everything app" vision, there seems to be more people looking to log off from X, and find an alternate source of real-time trend discussion.
Threads is the best of the various Twitter alternatives, with others like Mastodon, T2, and Post all struggling to gain mass take-up, and failing to deliver on functional innovations.
Meta, with its vast resources and experience, is best placed to meet such demands. And right now, the Threads UI is good, it's functional, though it does still lack many elements, including API access, lists, optimal discovery, etc.
Also, it's not available to European users at all as yet, which is a whole other regulatory discussion.
But it is getting there. Meta added a desktop version of the app last month, and it's now expanding its search options, which greatly enhances the app's functionality.
There's still a long way to go before we know whether Threads will actually become a viable X alternative, but given its popularity among certain prominent user groups, and the continued concerns raised by Elon's changes at X, it stands the best chance, and could become a much more significant consideration moving forward.
And it does also feel like we're reaching an inflection point. Over the past week, Elon Musk has ramped up his criticism of those whose views oppose his own, in contradiction of his own "free speech" stance. And as Musk continues to lean more towards increasingly divisive viewpoints, pressure is increasing for people to leave X, lest they be seen as supporting Musk's stances.
If that becomes a more significant push, you could indeed see Threads benefit, and as its functionality continues to evolve, it still has an opportunity to become the place to be for real-time discussion.