Meta continues to roll out new updates for Threads, including a new way to keep tabs on specific conversations, an updated post activity display, quote posts on desktop, Thread editing, and more.
Okay, there's no Thread edit option just yet, but Instagram chief Adam Mosseri keeps hinting at it, so it is likely coming, very soon.
First off, this week, Threads has added a new option that will enable you to follow a specific Thread in the app, without having to follow the user.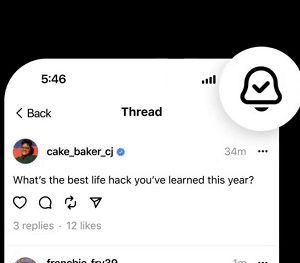 As you can see in this example, now, you can tap on the bell icon to get updates about a specific conversation, with alerts for Thread replies then active for the proceeding 24 hours.
It could be a good way to keep up with key conversations, and stay across the latest opinions. And if Threads ends up becoming a bigger source of breaking news coverage, that could be especially valuable.
Over on the new web version of the app, you can now quote other posts, which you've always been able to do in the mobile version, but wasn't part of the initial desktop build.
"Click on the "repost" logo under the post you want to quote, then select "quote"."
It's another small step in improving Threads functionality, as the Threads team continues to improve the offering, in the hopes of maintaining its growth momentum.
Threads has also rolled out an updated post activity display, which enables you to scan through each post's Likes, reports, and quotes separately.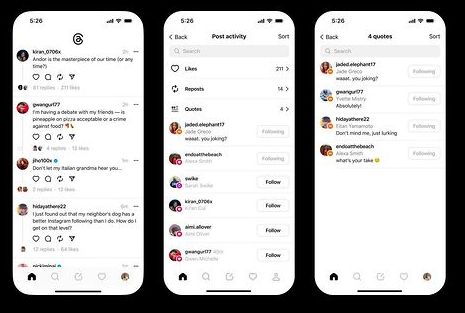 Okay, these aren't ground-breaking additions, and functionally, Threads also remains well behind X, and with far fewer users, which can see you exhaust your main feed pretty quickly. Threads is also still using your Instagram graph as a proxy for recommendations, though I suspect that most people follow a very different assortment of accounts on IG than they do on X, which means that this doesn't always produce the best matches.
Moderation has also become a focus this week, with some users noting that Threads, by default, shows no results when you search for "COVID" or related terms, referring people to the CDC website for official information instead.
You can still tap on the "See more results" option to see the relevant keyword matches, but some have pointed to this as a restriction of free speech and discussion, which could hurt the app, especially as it relates to trending topics.
Further investigation by The Washington Post found that Threads is actually censoring search activity for a range of terms, including "sex," "nude," "gore," "porn," and others.
Though according to Meta, these are temporary restrictions.
"The search functionality temporarily doesn't provide results for keywords that may show potentially sensitive content."
Meta told the Post that will add search functionality for terms only "once we are confident in the quality of the results."
Right now, Threads is showing search results for these terms in the auto-complete listing, but if you actually tap "Search" in the pop-up keyboard, you get no results. So you can still find relevant accounts relating to these terms, if you want. But it's not as free and open as you might expect.
There's still a lot to be improved in Threads if it's to become a viable Twitter/X competitor, with many pointing to the lack of an API, the lack of a separate algorithm, improved display of multi-Threads, hashtags, etc.
According to Meta, all of these are in some stage of development. And it is rolling out regular updates, but it'll be interesting to see if it's actually able to capitalize on that early interest, while delivering, at present, a sub-par alternative.
Maybe, just not having Elon Musk involved is enough for some, and anecdotal reports have indicated that Threads usage has increased this week after Musk's recent feud with the ADL.
And as I've noted before, Elon's ongoing criticism of journalists, who've long been key drivers of Twitter/X engagement, could continue to push influential users toward Threads instead.
Basically, I think that Threads would have fallen flat already if it weren't for Musk making divisive and controversial announcements every other week.
Whether that'll be enough to build Threads as a real, long-term bet remains to be seen.