Snapchat has been able to carve out a niche within the social media landscape by being the go-to platform for more intimate interactions with close friends, particularly among younger users. That focus, which Snap says enables users to "foster real relationships with those who matter," has enabled the app to maintain its growth, despite Meta stealing one of its core features.
Within this, for marketers, it's worth considering who you can reach on Snap, in variance to other platforms. You may be able to reach a broader audience on Instagram, but it's interesting to note the more specific focus of Snap, which could factor into your platform marketing approach.
To provide more insight on this, Snapchat recently teamed up with GWI to conduct an analysis of the app's unique audience reach.
The biggest finding:
"In the U.S., the research found that 43% of daily Snapchatters age 16+ do not use TikTok every day, 39% do not use Facebook every day, 53% do not use YouTube every day and 69% do not use Twitter/X every day."
So, as you might expect, the crossover between Snap and Instagram is the most significant. But even then, 32% of Snap users are not active on Instagram as often, which points to the audience reach potential of the app.
The behavioral trends are similar among younger users.
"Among 16-24-year-old daily Snapchatters, nearly 50% do not use YouTube, 63% do not use Facebook, and over 70% aren't on Twitter/X every day."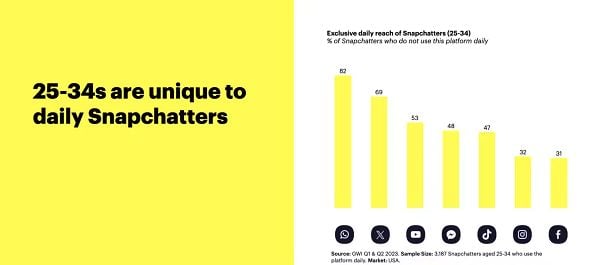 Which is not overly surprising, but it does highlight the unique value of Snap for your communications, with most Snap users having stronger loyalty to the app as their key communications platform of choice.
Snap does also have a challenge here, in maintaining its appeal to its users as they get older. But the data shows why Snapchat+ has been the most successful social platform subscription offering this far, because Snap users are more aligned to the app, which could make it a more powerful driver of campaign resonance.
Snap further notes that:
"On Snapchat, people can communicate visually and have fun being their authentic selves rather than feeling pressure to appear perfect. Unlike traditional social media, Snapchat prioritizes genuine communication, happiness, and self-expression."
Some interesting notes, which could factor into your Snap marketing plans.
You can read Snapchat's full report here.