Have you considered Reddit for your holiday marketing campaigns?
The platform has gone through an upheaval of late, as a result of its unpopular API policy shift, and subsequent changes to its moderator rules. But even so, Reddit remains a key destination for more than 57 million people every day, via dedicated, engaged subreddits that cover virtually any topic that you can think of.
And if you are considering your Reddit ad options, then this is for you.
Reddit recently published a new "Retailers' Advertising Handbook", which provides a range of key tips on how to approach Reddit marketing, and how you can maximize your efforts in the app.
You can download the full, 35-page guide here (with email sign-up), but in this post, we'll take a look at some of the key notes.
First off, the guide provides an overview of the potential of Reddit ads, and how it could play a valuable role in your outreach.
Reddit also includes notes on vertical-specific engagement, and overall activity: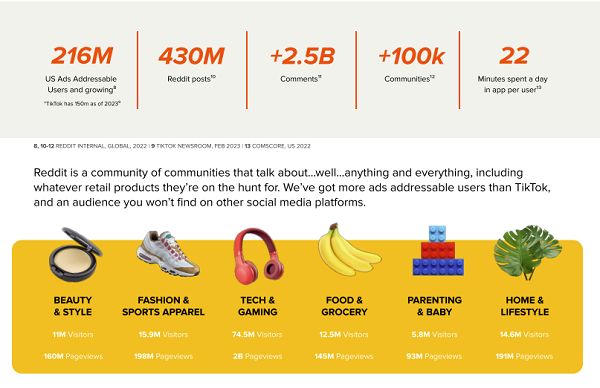 Oh, also: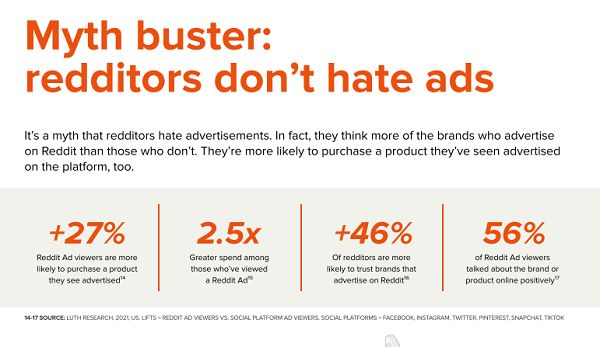 Reddit's clearly still battling the perception that its community hates ads, which, in the past, had meant that running a Reddit campaign could have a negative impact on brand perception. But now, Redditors are much more open to brand connection, which could present new opportunities.
The guide also looks at key Reddit ads best practices, targeting options, and creative best practices.
There's also an overview of all the paid promotion options available in the app.
There are also tips on how to make best use of the Reddit Pixel, case study examples, and pointers on campaign structure.
It's a good overview of the potential of Reddit ads, and if you are considering broadening your digital marketing horizons this holiday season, it's worth a look.
You can download Reddit's 35-page "Retailers' Advertising Handbook" here.