Pinterest held its annual "Pinterest Presents" advertiser event today, in which it showcased a range of new ad products and display options, including Showcase ads, a new ad creation option, "Collages" for Pins, and more.
First off, Pinterest has announced that it's making its "Premiere Spotlight" ad units available in more places in the app.
Initially launched back in March, up till now, Premiere Spotlight has enabled brands to essentially "own" the Search page in the app, by giving them prominent, top-of-feed placement.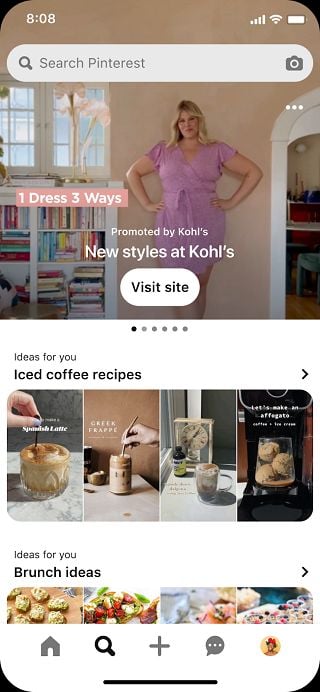 And now, you'll be able to run similar-sized ads in user home feeds as well, providing another big impact ad opportunity in the app.
As you can see in this example, the new home feed Showcase ads will appear as large tiles within the feed, making them stand out and grab attention. It's a premium ad option, with a premium price, but it could be worth considering for big brands launching new products aligned with the Pinterest audience.
Pinterest is also launching "Showcase" and "Quiz" ads to provide more engagement options in-stream.
Showcase ads will invite users to engage with a promotion by swiping through to glean more context about the product.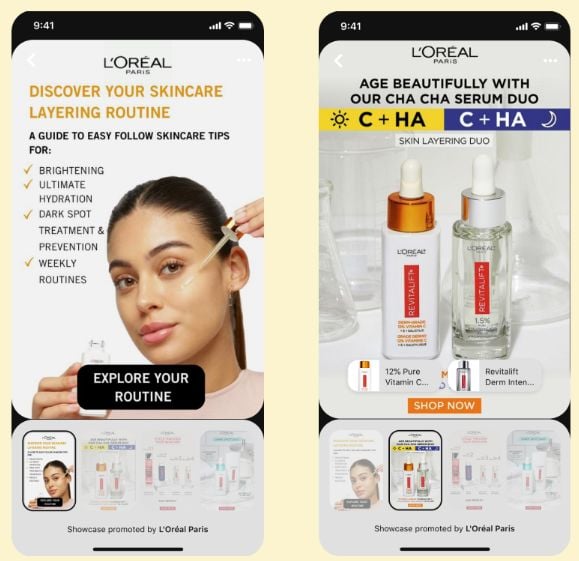 As you can see in this example, Showcase ads could be used to publish guides that incorporate your products, or other explainers to facilitate more contextual understanding of various elements.
Quiz ads, meanwhile, invite users to engage by prompting them with relevant questions.
"Brands can include up to three questions per quiz to create an entertaining experience for people to engage with and show consumers more personalized ideas, helping them to move deeper into decisions and toward a valuable purchase."
Pinterest is also adding direct links, in addition to mobile deep-linking (which it added in July), to help drive more traffic to a business' website.
"Mobile deep links help to instantly direct users to a specific page in a retailer's mobile app, making it easier to shop for products after clicking on a shopping ad. Direct links take people from a Pinterest ad to a retailer's website with just one click, reducing the steps it takes for users to go from discovering a product to checkout."
And given the high shopping intent of Pinterest users, that could be a valuable addition indeed, helping to drive more traffic back to your site for conversion.
On a related front, Pinterest is also adding integrations for Salesforce Commerce Cloud and Adobe Commerce native applications to make it easier for brands to manage their shoppable Pins and display types in the app.
Pinterest is also developing a new Creative Studio tool which is designed to help businesses generate lifestyle imagery for product Pins.
"Brands will be able to simply add their Pin link, select the prompts that match their need, and Creative Studio will then generate a selection of custom background images."
So, it sounds like Pinterest's first steps into generative AI, though we haven't seen a live example yet. That could help to enhance the look of your Pins in-stream. Creative Studio will be available for testing with select US advertisers later this year.
For regular users, Pinterest is also adding a new "Collages" display option, which will enable users to digitally cut objects out of a Pin and combine them with other cutouts to create interactive images.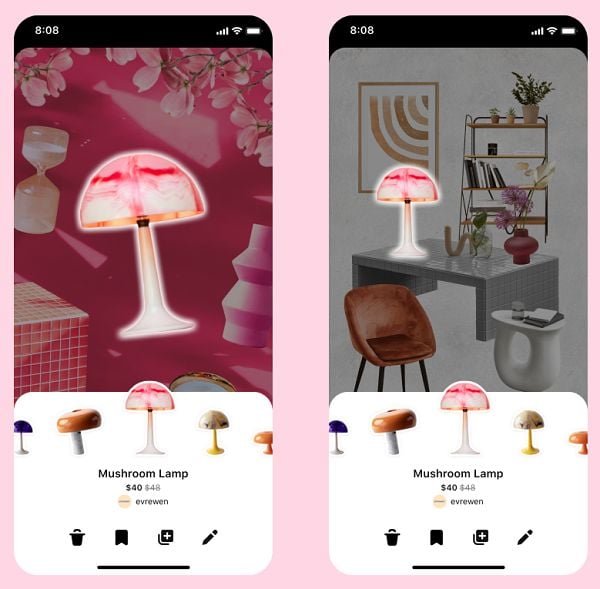 Which sounds very much like Pinterest's separate "Shuffles" app, which has gained traction in some markets. Shuffles provides the same functionality, in enabling collage creation using Pin images, with each image then linking back to the source Pin.
It seems that Pinterest is now trying to build on the popularity of Shuffles by integrating the same into its main app.  
Pinterest is also developing a new Business Manager platform for agencies, while it's also working on improvements to its broader ad targeting systems, in order to improve ad performance.
These are some interesting updates, and with 465 million users, all coming to the app with shopping intent, it's definitely worth noting the latest Pin developments, and considering where they might fit into your digital marketing plan.
Pinterest's new Premiere Spotlight ads in the home feed are now available in the U.S., U.K., Canada, Germany, France, Australia, Japan, Spain, Italy, the Netherlands, Brazil and Mexico. Showcase ads and Quiz ads are now available in the U.S., U.K., Canada, Germany, France, Australia, New Zealand, Japan, Brazil, Mexico, Italy, Spain, Switzerland, Denmark, Sweden, Finland and the Netherlands. Other countries will gain access later in the year.