Pinterest is rolling out a new process that will enable users to find more images and examples that align with their body shape, via an AI-based system that identifies body shape, size, and form within images in order to increase representation across related feeds and search results.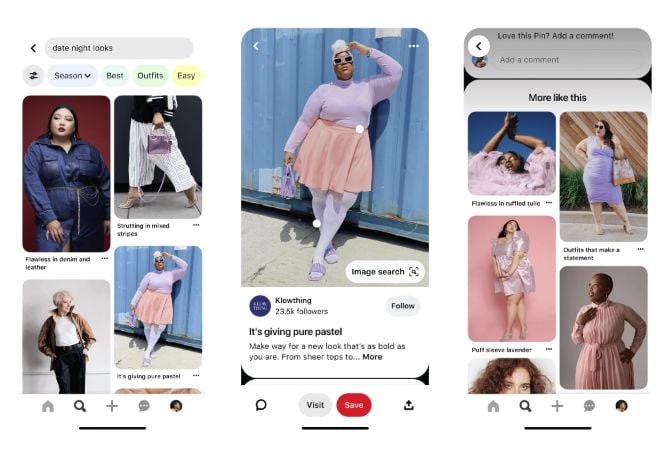 As you can see in this example, with Pinterest's new body type filters, it will now be able to show users more relevant results with respect to their own body type, while also highlighting a more diverse range of results within Pin searches.
As explained by Pinterest:
"Inspired by user behavior and the culturally critical discussion around body representation, Pinterest's Inclusive Product Team partnered with experts inside and outside of Pinterest to develop a body type technology that uses shape, sizes, and form to identify body types in images. With this enhanced understanding of visual content through computer vision technology, Pinterest has shaped its algorithms to increase representation of both body type and skin tone across search results and related Pins. For example, if a user searches for date night outfit inspiration, they will see results inclusive of various body types and skin tone ranges."
So it's a better way to show examples from a wider range of body shapes, while it'll also enable Pinterest users to find images that better represent their body type.
Which could help to personalize and customize the search experience, and give you a better idea of how certain products will look on your body, as opposed to a more stereotypical model shape.
Pinterest says that it's worked with a range of external organizations and experts in developing the new process, including the National Association to Advance Fat Acceptance (NAAFA), model and size advocate Tess Holliday, as well as plus-sized Pinterest Creators, who've all helped to form this new approach.  
It could be a significant step forward for representation in search results, and with many people turning to Pinterest to find fashion inspiration, it could provide a much more beneficial, and realistic depiction of items within the app.
In addition to this, Pinterest is also launching a new Creator Inclusion Fund dedicated to North American creators who share content related to different body types.
"This is the thirteenth installment of Pinterest's Creator Inclusion Fund, an initiative focused on the growth and success of historically marginalized creators. Selected creators will receive expert training, resources, and financial support."
Interested creators can apply to the program here.
Pinterest says that it will also be spotlighting several size-inclusive brands on its search landing page, and within its shopping spotlights.
Pinterest has added a range of tools to improve diversity and representation in its discovery tools, including hair type and skin tone matching, which enable users to customize search results based on a broader range of parameters.
The addition of body shape qualifiers adds another means for users to better hone their results, while also catering to a broader range of body types, and ensuring greater representation in its offerings.