Social media managers are regularly asked to take on a number of different roles, based on the evolution of platforms, the development of new strategies, target audience, staffing situations, etc. But it's that variation that often makes the job so interesting, according to the latest survey from Hootsuite, which incorporates a range of insights from people working in the social media field, to provide a better understanding of how they see their work, their key challenges, and how the industry, in general, is changing over time.
And it is changing, as always. And with various businesses forced into lay-offs over the past year, the survey comes at a particularly interesting time in the space.
Hootsuite surveyed over 3,800 people working in the social media field for the report, which covers a range of key elements like job expectations, satisfaction, pay rates, and more.
You can download the full 80-page report here, which includes a heap of in-depth insights, but in this post, we'll take a look at some of the key notes.
First off, the report looks at the key challenges for social media managers, which will sound pretty familiar to most.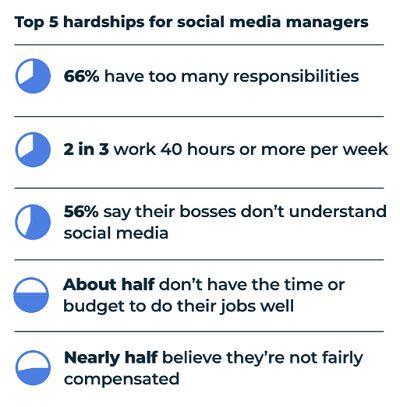 Never having enough time is almost an embedded staple, because we'd all love to be able to create video clips, AR effects, VR experiences, etc. But you can only do so much, and in most cases, that means that your social media manager is covering the critical elements, though there are always other opportunities on the horizon.
Also worth noting the "56% of people don't feel like their bosses understand social" stat. That's changing over time, but it can be a frustration, in that you're developing strategies sometimes based on a flawed understanding as to what social media marketing can actually provide.
In other words, a lot of hard conversations about how you can't just make things go viral on demand (I'm kidding, but…).
Yet, despite these challenges, most social media managers do enjoy their job.
According to the report, 77% of social marketers are happy in their role, while social pros whose jobs are entirely dedicated to social media are the happiest cohort.
Though that's not the norm, with most social managers split across other elements.
Maybe there's a case to be made for more dedicated social media roles, though the challenges in tracking ROI, which can be partially linked back to the above-noted broader misunderstanding of the process, could be a restricting factor here.
The report also looks at the advantages and disadvantages of working from home for social media managers.
No surprises there, while it also looks at which specific tasks social media managers find more or less challenging.
Hootsuite's also included data on average pay rates for social pros, which may give you some benchmarks for your next review meeting.
Also worth noting that only 29% of social media managers indicated that they've been able to advance into higher management roles, which suggests that despite social media maturing as a business consideration, it's likely still not viewed as being at the same level as more traditional processes.
Or social media managers don't make great people managers, maybe. You can draw your own conclusions, but it's another interesting data point from the survey insights.
There's a heap more info in the full report, which also covers more specific elements of working in social, including gender balance, responses to recent lay-offs, impacts on mental health, and more.
You can download Hootsuite's full "2023 Social Media Career Report" here.