Sprout Social has released its latest report into the state of social media marketing, and how consumer and brands view their social media interactions, with insights into evolving expectations, content behaviors, the use of AI, and more.
Sprout surveyed over 1,800 social media users, and 900 marketers across the U.S. and the U.K., giving it a broad survey pool, which should make its data fairly indicative of broader shifts.
You can download the full, 39-page report here, but in this post, we'll take a look at some of the key notes.
First off, Sprout's data shows that social media usage is increasing, while the reasons why people follow brands in social apps is also changing over time.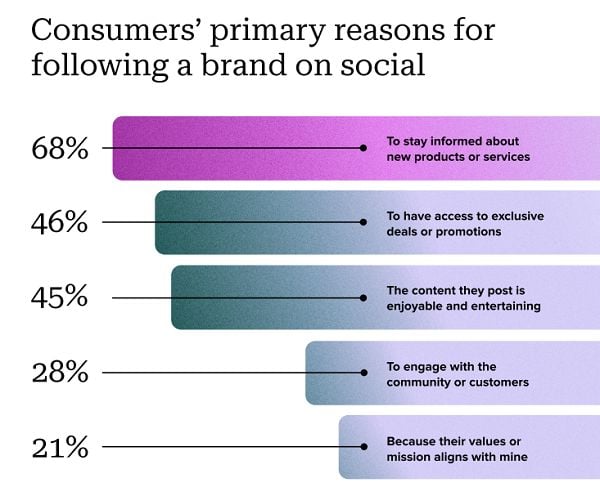 As you can see, keeping people up to date about the most relevant product updates is key, while sharing special offers is also a far more significant interest factor than things like brand values or mission-based notes.
That's not to say that these aren't also important, as there are still a significant number of people who want to know about a brand's mission, and be entertained by branded content. But it's worth factoring in the top reasons for your social media presence, and considering how your business aligns with this listing.
Though it is interesting to also note that people's views on a brand's values and mission are much more strongly represented in Sprout's listing of content that they don't see enough of from businesses: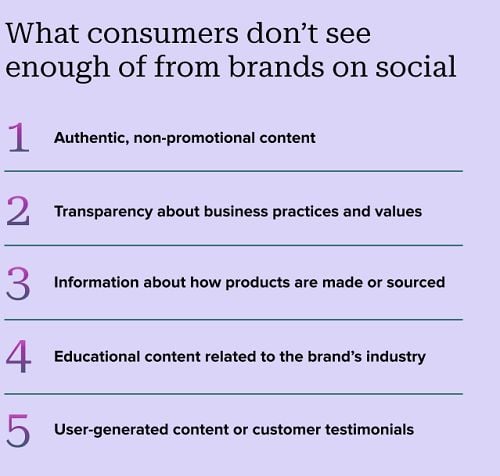 So people follow brands for product updates and deals, but also want to see less promotional content. Maybe that's more to do with behind-the-scenes explainers and/or insights into how products are developed.
There's less ambiguity about this element: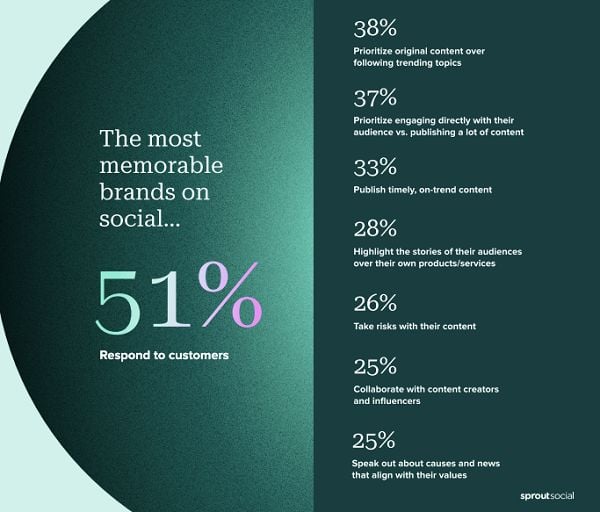 Customers expect a response when they post a comment, so if you're ignoring certain remarks, or you're not keeping an eye on your DMs, it might be time to bump this up the "to do" list, and ensure you show people that you're hearing them when they reach out.
Though, helpfully, the expectations for brand response have lessened.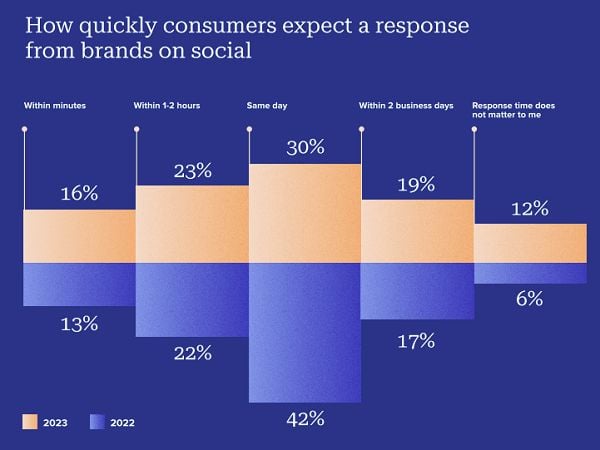 Based on this chart, 69% of consumers now expect a response within the same day, versus 77% when the survey was conducted last year. More consumers do expect a response within minutes/hours of posting, so in that sense, there is more urgency in reply. But overall, more consumers now seem more understanding that brands can't always get back to them quickly, given the increasing rate of online queries.
The report also looks at generative AI, with this chart in particular worthy of note:
So, people know that they're going to be dealing with AI agents more often in future, but brands do need to be mindful of making their processes more robotic, which can reduce the engagement factor for some consumers. Leaning too far into AI too soon could end up turning people away, and like everything, AI tools should still be considered supplementary elements, not replacements, at least at this stage.
Sprout's full report includes more in-depth insights into each of these elements, as well as an expanded overview of the latest trends in social media management, and how businesses are tracking performance, developing strategy, etc.
Some valuable insights into the current state of play. You can download the full "Sprout Social Index" report (with email sign-up) here.