Meta's taking another step away from news and politics, with the announcement that it's ending Facebook News in the U.K., France, and Germany from December this year.
Originally launched back in 2019, the Facebook news tab was designed to provide a more trustworthy source of news content in the app, with approved publishers partnering with Meta to populate the separate news feed.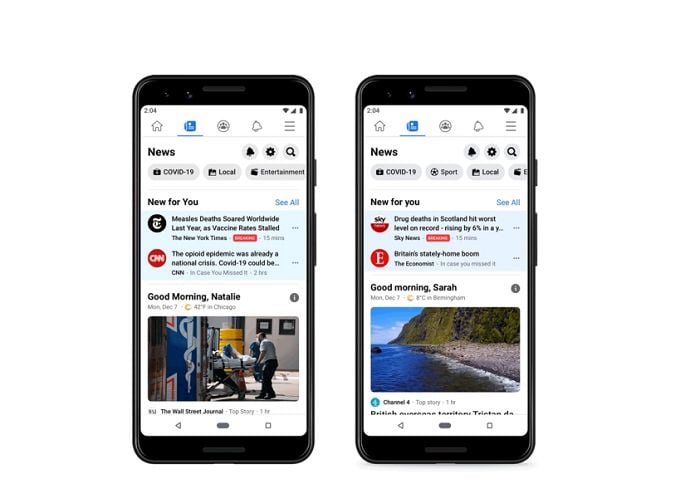 That came in response to Facebook being viewed as a key news source, and a key facilitator of news and information for many, which prompted Meta to make a more active effort to police news content, and ideally weed out questionable sources by providing a more curated and authoritative news experience.
But over time, Facebook users have become less engaged by, and interested in news discussion, which has already seen Meta shift its focus to short-form video, and updates from friends, while cutting down on news, and in particular political content in-stream.
Which has now led to the demise of Facebook's separate News section.
As explained by Meta:
"[The removal of Facebook News in Europe] is part of an ongoing effort to better align our investments to our products and services people value the most. As a company, we have to focus our time and resources on things people tell us they want to see more of on the platform, including short form video. We know that people don't come to Facebook for news and political content – they come to connect with people and discover new opportunities, passions and interests. News makes up less than 3% of what people around the world see in their Facebook feed, so news discovery is a small part of the Facebook experience for the vast majority of people."
Back in 2021, Meta reported that the most common feedback that it gets from Facebook users is that they don't want political content to take over their News Feed. That came in response to increasing levels of political division and argument, and in response to this, Meta has steadily gone about reducing the presence of political content in its main app ever since.
Luckily, it's got a viable replacement, in short-form video, with Reels now seeing massive growth, and driving more engagement in the app. And as Meta leans further into AI-recommended content, it's now able to keep more people more engaged, without having to rely on comments and/or shares as a measure of active engagement, which had propped up news engagement.    
That shift will also enable Meta to back out of its various agreements with news publishers, which had cost it millions (and injected new funding into the media industry), while it'll also give it more ground to push back against regional regulations that seek to force Meta to pay local publishers for the use of news content.
Australia was the first to implement a specific process on this, with its "Media Bargaining Code", launched in 2021, essentially forcing Meta to pay local news organizations for re-posts of their content within its apps. Which Meta argued made little sense, as it's the publishers themselves that glean all the benefit from this process, not Meta. But it negotiated in good faith, which led to more money then being diverted to local publishers from Facebook.
Though Meta probably should have held firm, because the Media Bargaining Code has since empowered more governments to push Meta for more money, on behalf of their local media organizations.
Canada is the latest to press its case for more Facebook dollars to be redirected to local media, which has seen Meta ban news content in its apps entirely in the region, in response to its proposed "Online News Act".
And now, with Meta moving further away from news discussion in its apps, it seems like Zuck and Co. will indeed stand their ground this time, which will reduce the prevalence of news discussion even further, especially in certain regions.
Is that a good move?
As Meta notes, news content makes up only a fraction of in-app engagement, with Reels really becoming the key driver of audience activity in its apps. And with Meta also being repeatedly hammered over the role that its platforms may or may not have played in amplifying political movements, it makes sense that it would be keen to move on from news entirely, if it can, and with the indicators pointing to this being a broader usage shift, now is seemingly the time for the company to move on from its news deals.
It'll be interesting to see whether this changes how people get their news moving forward, and whether Facebook's gradual slide towards entertainment shifts perceptions around its perceived influence in this respect.