While the Threads team continue to refine the app, in the hopes of providing a true alternative to X, the early buzz around the platform has clearly eased, which could be the beginning of the end for the Meta-owned challenger.
Yet, despite this, there's still a lot of interest there, and Threads usage is still relatively high, even without all of the key features required to meet user demand.
That's according to Instagram chief Adam Mosseri, who provided a brief update on the state of Threads in his weekly Q and A on Instagram Stories, in which he touched on some of the key challenges for the app, and how the Threads team are working to improve.
As per Mosseri
"Overall [Threads is doing] good, a lot of people use it, but they don't use it as frequently as we would like. There are some people who use it a ton, and some people who use it in a very, very lightweight way, so lots of work to improve."
That's pretty much in line with third party reports, which suggest that Threads users are now only using the app for around 6 minutes per day on average, down from a high of 21 minutes per day just after launch. For context, back in May, Elon Musk reported that X users were spending around 31 minutes per day in the app.
So it's seemingly still a way off, but it's also still comparatively limited on the feature front, and without a comparative feature set, it's hard to make any definitive predictions on whether it's able to become a bigger platform, or if it'll fade out.
On that front, Mosseri also noted the key areas of focus for the Threads team right now:
Messaging

– Mosseri says that they need to make messaging "more easy", which doesn't necessarily mean that Threads will add its own DM element, as such, but it may more directly connect with your Instagram inbox. Meta seems hesitant to add another messaging element within its Family of Apps, which could be related to its broader messaging integration plan, which will eventually provide users with a universal app inbox, which connects your Messenger, Instagram, and WhatsApp chats, all in one. Meta's been working on that plan for several years, and it's seemingly now nearing completion. So adding another messaging platform into that mix could be a non-starter for Threads, but messaging, in some form, is on the cards for the app.

Improved discovery

– Right now, Threads uses your Instagram usage as a guide for the topics that you might be interested in on Threads, which is not always the best indicator, based on the varying use of both apps. On Instagram, people are more likely to follow brands, engage with memes, follow celebrities, etc. On Threads, which is more like X, you're more likely to want to follow professional industry profiles and influencers, or people who post good text-based content, as opposed to cool images and video. That seems to be something of a stumbling point, and Threads will need to re-align its algorithm around Threads-specific engagement to boost engagement and activity.

Improved recommendations

– This is pretty much the same point. Right now, Threads is not good at showing you accounts that you probably want to follow on Threads specifically. As such, a lot of its recommendations are still fairly generic. I get a lot of celebrity profiles highlighted as potentially of interest, which is similar to what X shows you when you sign up for a new account, because it doesn't have enough personal engagement data to know what you might actually like as yet. It feels like Threads is also in that stage, where its algorithms are simply not attuned enough to Threads-specific engagement to highlight more relevant profiles of interest. The chicken and egg challenge here is that it can only learn this by tracking user engagement, and unless people use the app more, the algorithm can't know, with any real accuracy, what you might like. Basically, Threads has a way to go to improve its algorithmic matching, which is a big challenge based on varying usage.

Edit button

– Mosseri specifically made note of the need for an edit button, which Threads is already developing. At present, the prototype on this would give users a five minute post-publishing window to update their Thread. There's no word on a release date for this as yet.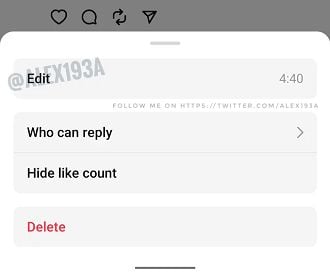 Oh, and there's also that big gap in access, in that EU residents can't use Threads at all at this stage.
Mosseri also shared a brief update on this:
"There's a couple of regulations coming out next year that we want to make sure that we can be compliant with, so that's something that we're very focused on. Hopefully, we'll have something to announce soon, but nothing to announce yet."
So no movement on the EU access front, which will limit the expanded use of Threads, and could also be a restricting factor in making it a truly viable X alternative.
Yet, even so, among all of the X variants that have cropped up in recent times, Threads remains the most viable, and the most used, at least at this stage. Mastodon is still too complicated (though it has improved a lot of late), while Bluesky is too niche, and the others (Post, Pebble, Spill), are simply too small-scale to be considered real replacements, or even worthy supplements for most.
Threads addressed the key problem of scale by piggybacking off of Instagram, and driving sign-ups via in-app notifications, while it's utilized the internal expertise and insights at Meta to build a great UI, and replicated several popular features direct from X.
But it doesn't have all the ingredients as yet.
Yet, people are still using it, key user groups, like journalists, are still active in the app, and many people are still looking for a viable alternative, so that they can abandon X entirely at some stage. For most, that's still not possible, because too much breaking news still gets shared first on X, but every time that Elon Musk posts a divisive remark, or makes an unpopular change, a few more people log out of X for the last time, and look to move on to something else.
Which is why Threads still has significant opportunity. Because like him or not, Elon has become an undeniably divisive figure, who's taken up conspiratorial stances on several major issues. That, inevitably, is going to rub some people away. And with Musk using X as his personal soapbox for his version of free speech (i.e. "I should be able to say whatever I want, with no consequences, as it's all just discussion"), the desire for an X alternative will remain, for as long as he continues to post.
And I don't see him scaling back his late-night posting sprees anytime soon.