Meta has published a new guide to its various automation and generative AI ad tools in order to help marketers prepare for the upcoming holiday season.
The 16-page guide covers all of Meta's evolving AI ad tools, including its Advantage+ suite of products, and its new AI creation elements, which it's developing in its AI sandbox platform.
It's a handy explainer, which could help to get you thinking about how AI tools can optimize your Facebook and Instagram ads approach. You can download the full guide here, but in this post, we'll take a look at some of the key notes.
First off, the guide looks at how Meta's AI tools are already helping brands, with stats on last year's holiday campaign performance.
The guide also includes notes on how people are using Meta's apps to find the best deals, underlining the value and potential of its ad options.
Meta's AI tools for advertisers have come a long way in recent years, largely as a result of increased focus following Apple's iOS 14 update, which had a big impact on Meta's bottom line. And now, with generative AI becoming a bigger consideration, Meta's suite of automation offerings is expanding.
Its creative automation elements are particularly interesting, with Meta developing a suite of new options that can generate background for images, format ads based on chosen parameters, etc.
Pretty soon, you'll be able to automate the entire campaign creation process, from creative to targeting, and the guide provides overviews of how each element is being developed, and how you can already utilize various automation aspects within your process.
The guide also includes tips on effective ad account structure, messaging for business, the Conversions API, and more.
There's also an overview of how to plan out your holiday campaigns for maximum impact.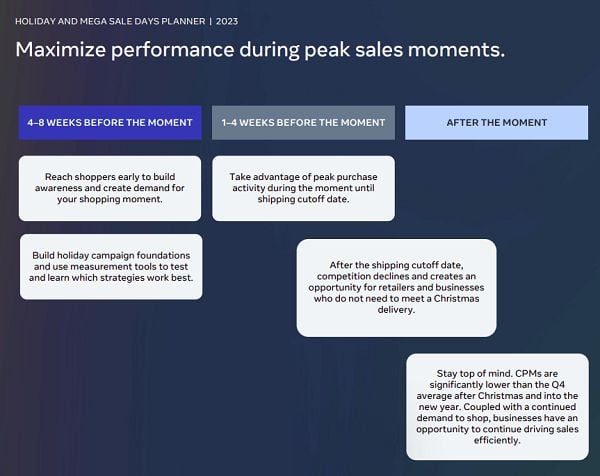 It's a good overview of Meta's evolving AI tools for marketers, and how you can make best use of its Advantage+ tools in your campaigns.
You can download Meta's 'Peak Sales, Peak Performance' guide here.
In addition to this, Meta's also hosting a series of webinars later this month which focused on SMB performance best practices. You can learn more about those webinars here.