Meta has posted strong earnings results for Q3, with a steady increase in users, and its best quarterly revenue performance to date.
And while it is still spending big on VR, things are also starting to look a little more rosy on that front as well.
First off, on users. Facebook added another 19 million monthly active users in Q3, taking it to 3.049 billion actives.
As you can see in these charts, virtually all of Facebook's growth is coming from the "Asia Pacific" and "Rest of the World" segments, with the platform seeing significant growth in India and Indonesia, specifically, in line with local connectivity improvements.
The concerning part here is that Meta lost users once again in Europe, and gained only a million in North America, which are its two biggest markets, by a long way, in terms of revenue per user.
That tempers these gains to some degree. But even so, they do point to future potential, and of all social platforms, Facebook is probably the most likely to have the resources to capitalize on such trends.
Facebook's daily active users also rose by 21 million, with more users coming back to the app to check in on the latest updates.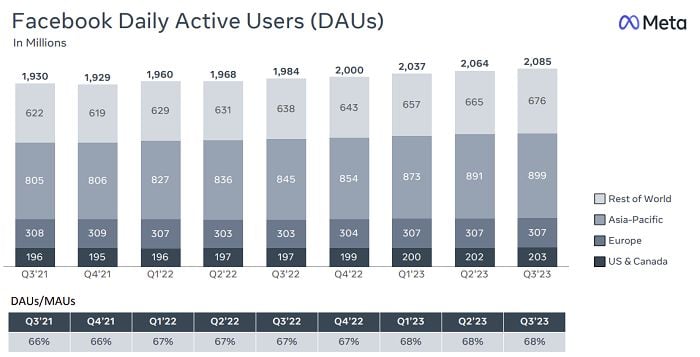 That, in large part, has been driven by Meta's push to integrate more AI-based content recommendations, primarily via Reels, which are now being shown in more places across Facebook and Instagram. Following TikTok's lead, Meta has gradually expanded its use of broader content recommendations, from beyond the people and profiles that you follow, which is driving increases in time spent within its apps.
Which has also led to more ad exposure, with overall ad impressions increasing by a massive 31% year-over-year.
And with Threads also gaining traction, it'll be interesting to see what impact that has on Meta's overall usage stats, and eventually, ad exposure.
For context, Meta's "Family of Apps" (users across Facebook, Instagram, WhatsApp, Messenger, and Threads) is now closing in on 4 billion monthly actives.
For context, the population of the entire planet is around 8 billion, with 1.4 billion people residing in China, where Facebook's apps are not (technically) available. 
For all the prognostications of Facebook's decline, it's still seemingly holding firm, and while I would like to see the average time spent per user figures, and how they've changed over time (I suspect that Facebook usage has fluctuated significantly), it is interesting to see Facebook's continued growth, even in markets where it has to be close to peak awareness.
In terms of revenue, Meta's results were even better, bringing in $34.15 billion for Q3, an increase of 23% year-over-year.
As you can see in this chart, Meta's next best quarterly result was in Q4 2021, which factors in the holiday rush, and given that this result has come in Q3, analysts view this as a solid indicator of the company's potential for future success.
Meta also upped its guidance for Q4, which sent Meta shares up 5% in after hours trading, though it has also warned that macroeconomic conditions (i.e. global conflicts, regional disputes/bans) could impact its results.
Another key element in Meta's numbers is cost reduction, which has been a significant concern for analysts of late, as it sinks more and more money into its metaverse project. Meta actually reported a 7% YoY decrease in costs in Q3, largely due to layoffs conducted earlier in the year, which are now complete.
Though Reality Labs, its VR division, continues to weigh heavy on the bottom line.
As you can see in this listing, VR headset sales slipped lower again, with Reality Labs bringing in $210 million in revenue, which is primarily through Quest unit sales.
Meta's set to make a bigger push here, with its new Quest 3 headset getting good reviews, while the next iteration of its Ray Ban Stories glasses are also wowing early users. And with the capacity to live stream for Facebook and IG directly from the device, I do think that there's going to be more interest there, as Meta looks to glean more immediate value from its VR/AR bets.
Meta's total costs and expenses for the quarter came in at $20.40 billion, with Reality Labs alone costing $3.7 billion. That means that Meta's almost definitely going to best the $14 billion loss it posted last year for its VR development last year.
There's a lot to like about Meta's results, with the main takeaway being that it's now got its ad business back on track again, after the impacts of Apple's iOS 14 privacy update, and the various regulatory shifts in Europe. Meta's also likely benefited from reduced ad spending on X, amid concerns around how it's changing under Elon Musk, with marketers then reverting more money to Facebook and IG instead.
That looks like a positive trend for the future, and as noted, with Threads also seemingly taking at least some of X's thunder, Meta does seem well positioned, even with its VR development costs still rising.
Enthusiasm around the Quest 3 also bodes well for the company, while the latest Ray Ban Stories glasses also present a clearer picture of what its move into AR wearables may look like. And with established manufacturing and distribution processes, and a much lower price point for its mixed reality unit than Apple, the broader market may now be seeing more of Zuck's broader metaverse vision, and where things are gradually headed in the VR space.
When he posted that one picture of the metaverse last year, with his avatar in front of a line drawing of an Eiffel Tower replica, Meta shares dipped, but things are now looking up again, as clarity settles into Meta's various projects.
There's still a way to go, and you can bet that there'll be many more questions in Q4 as to where Meta's $16 billion (or more) of annual investment into VR is actually going. But it is increasingly looking like it'll be able to provide a more viable pitch on this front, while it also continues to bring in revenue from its primary social ads business.