After testing them out with selected brand partners over the past five months, Meta has today announced an expanded launch of its new generative AI elements for ad creation, including text variations, background generation, and image expansion tools.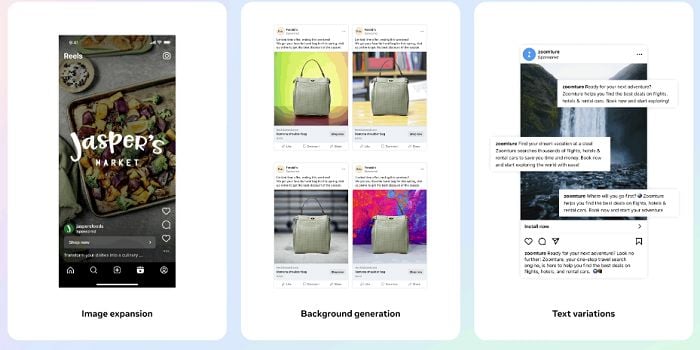 As the titles suggest, each of these new elements will use generative AI to provide more creative options, either through suggested post captions, alternative image backgrounds, or generated visuals to use in different ad formats.
Which could provide significant benefit in your ad creation process, with Meta's initial test pool finding that the new options saved them significant time, and helped them maximize their campaigns.
As per Meta:
"According to a survey of advertisers that participated in early testing, half of them estimate that generative AI will save them five or more hours a week – the equivalent of one month per year – noting they'll be able to create multiple asset variations with the click of a button, reducing time spent between creative and media teams on time-consuming editing tasks and allowing for more strategic work."
In addition to this, test partners also indicated that Meta's new AI ad tools helped them drive campaign performance, by enabling quicker development of more ad creative variations at scale.
There's a range of ways in which these could be used, with background generation, in particular, looking like a valuable, and beneficial option to integrate into your process.
Meta's also working on additional background generation options too:
"We plan to offer advertisers more ways to generate background images in minutes with tailored themes, like outdoor images for an athleisure brand."
In addition to this, Meta's also developing AI tools for business messaging, which has been a key area of growth of late:
"Businesses will soon be able to use AIs for business messaging on Messenger and WhatsApp to engage with customers – helping with commerce, engagement and support, unlocking instant conversational responses. We're testing with a small number of businesses in Alpha and plan to scale it further next year."
It's a good way to utilize generative AI within the ad creation process, providing recommendations and alternatives, as opposed to trying to use AI to fully automate the entire process. I mean, Meta's working on that as well, but right now at least, most generative AI tools seem to work best in a supplementary capacity, as assistive tools, as opposed to replacements for real human input.
Maybe, at some stage, AI bots become so advanced that they'll actually be better than humans in this respect, but I do feel like genuine creativity will be hard to simulate. So if you want to create derivative content, which is similar to all that's come before, AI systems might be able to do that (and it might perform quite well), but for next-level innovation and creativity, human input will still be required.
But used well, AI will extend the capacity of advertisers, and enable broader experimentation, personalization, and ideally, response.
Meta says that these new AI features are being rolled out in Meta's Ads Manager from today, with a global rollout to be completed by next year.