Meta's adding some new ad optimization tools for the holiday push, including variable campaign budget options, new tools to entice purchase actions, and more direct linkage to buy products from ad displays.
First off, Meta's adding a new time-based budget scheduling option, which will enable advertisers to set a higher budget for a campaign within a specific time period.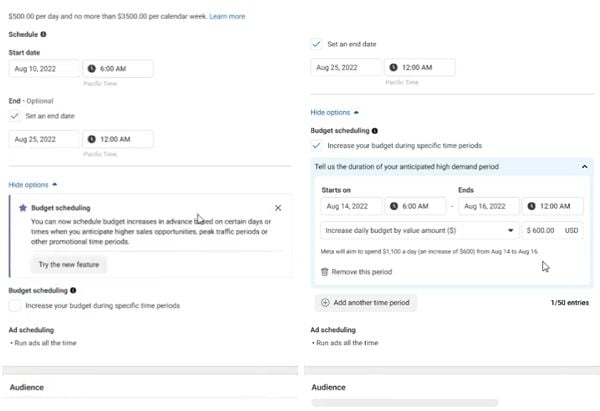 As explained by Meta:
"With budget scheduling, advertisers can choose to increase their daily budget to maximize promotional and sales opportunities. Before, an advertiser would have to manually adjust the budget at the desired time. After an advertiser's promotional period ends their budget will automatically revert back to their daily budget that they initially set – no other steps needed."
So, for example, if you know that a campaign is going to see more interest on a certain weekend, you can enter an alternative budget threshold for those specific days, which will then increase your exposure potential, before re-setting to your baseline budget threshold after.
That could be a good way to maximize your campaign reach, without needing to run alternate ad sets, or manually update your budget at certain times. Meta's also testing similar budget variations in Advantage+ campaigns, which will enable businesses to set a higher budget for specific audience segments.
Meta's also expanding its Promotional Ads to more businesses.
Promotional ads entice sales by providing shoppers with access to discount codes and offers in-stream. That effectively makes the buyer feel like they're getting a better deal, by building these coupons into the shopping process.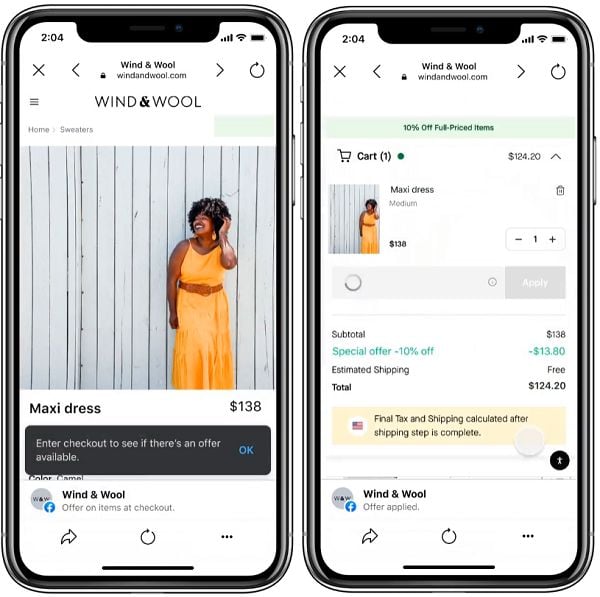 That initial prompt guides users through to the check-out stage, via the lure of a discount, which can help to drive conversion.
Promotional ads will be available to brands in the U.S., U.K., Canada, and Australia this holiday season.
Meta's also opening up Reminder Ads to more businesses.
"With Reminder ads, people can opt into reminders and receive three notifications from an Instagram post one day before, 15 minutes before and at the time of the event. Now we're making it easier for advertisers to create Reminder ads by allowing them to upload creative in Ads Manager."
Meta's also adding Stories as a placement for Reminder ads, another way to spark interest.
Finally, Meta's also testing new Shops Ads, the title of which makes me imagine Gollum saying it.
Shops ads essentially drive more purchase activity by making it easier for people to purchase from an ad, on both Facebook and IG. To facilitate this, Meta's currently testing new integrations with Adobe Commerce, Magento Open Source, and Salesforce Commerce Cloud, which will more directly link your Meta ads with your purchase flow, helping to facilitate more direct shopping activity
Meta already has established integrations with BigCommerce, Feedonomics, ProductsUp, GoDataFeed and ChannelAdvisor, a CommerceHub company.
The new options will help to drive more direct action from our Facebook and IG promotions, and get more people to convert. And if Meta can provide a better shopping experience, that'll also help to improve trust in its systems, which could make it a bigger shopping destination moving forward.
You can read more about Meta's latest ad additions here.