With the biggest shopping season of the year fast approaching, Meta has announced some new updates for Reels ads, in order to help brands tap into its fastest-growing content surface.
First off, Meta's adding Collections Ads for Facebook Reels, which are already available on IG.
Meta's been testing the option on both Instagram and Facebook since October last year, and now, it's making its Collections ads available to more brands within the Facebook Reels display. So not all marketers will be able to access it as yet, but Meta is looking to make the ad unit more widely available shortly.
TikTok also has its own version of the same, so Meta's largely moving into line with other short-form video ad options.
Expanding on the format, Meta's also testing new Multi-Destination Reels Carousel Ads, which will enable brands to drive viewers to multiple product pages based on each of the images shown in the display (this is already live for Carousel Ads on Instagram).
Meta's also adding a new "Swipe Left" functionality for Facebook and Instagram Reels ads, which will make it easier for viewers to easily switch across to learn more about the product/s in an ad.
That may require a level of behavioral re-adjustment from users, but it could be an easy way for brands to share more insight and information with ad viewers.
In addition to this, Meta's also developing new Advantage+ automation solutions for Reels ads, including:
Creative Optimization – Meta's adding new, auto-generated templates for Reels promotions, which will help to optimize your creative into the best-performing Reels formats

. This is one of several new automation elements that Meta's building into its Advantage suite, which will effectively enable you to easily generate alternate versions of ads and ad creative through Meta's tools.

Music – Meta's also making its new music selection tool available to all advertisers on iOS, which enables marketers to

automatically apply free music from Meta's Sound Collection library, matched to your ad.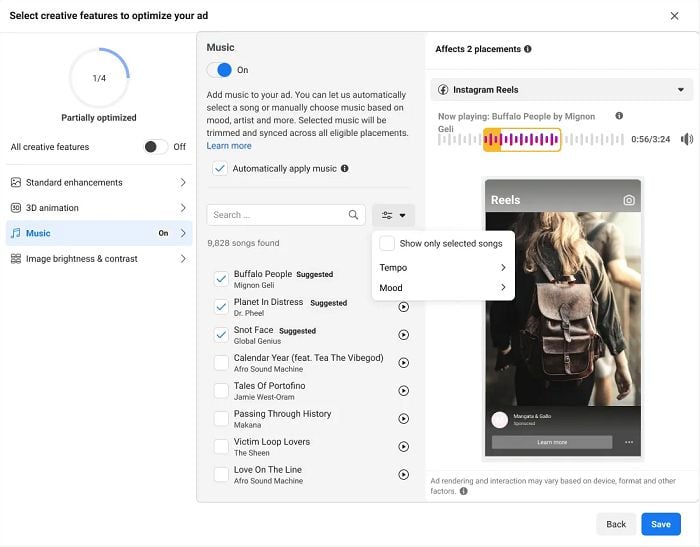 These new updates are available within Meta's evolving Advantage+ toolset within Ads Manager, providing new ways to utilize automation within your Reels promotions.
Finally, Meta says that its brand suitability Inventory Filter control, as well as its third-party brand suitability verification solution, in partnership with Zefr, will now also cover Facebook and Instagram Reels.
Meta announced its partnership with Zefr back in March, and it's been gradually expanding its third-party verification offering into all areas of ad placement.
As per Meta:
"Inventory filter allows advertisers to control the type of content that shows up next to their ads (aligned with the GARM Brand Suitability Framework), while third-party verification, currently offered through Zefr, acts as independent measurement and provides advertisers with transparency and reporting on content adjacent to ads. A simple way to think about brand suitability differences varying between brands is a toy company vs. an adult clothing company: the content these two brands would be comfortable having their ads appearing next to may be quite different – and we want to empower all brands to craft the most suitable environment for people to see their ads."
So, essentially, you'll now have more assurance, via third-party verification, that your ads are not being placed alongside offensive content, which will also extend to Reels placement. 
These are some valuable considerations, and with Reels being Meta's fastest-growing content element, it is indeed worth looking into your Reels promotion options, and how the format could be of benefit within your holiday push.
Data shows that people are spending more time on both Facebook and Instagram, but they're posting less, because that time spent is increasingly being consumed by the never-ending stream of Reels clips, customized to your interests. This is a significant behavioral shift, and if you want to move in line with it, Reels is where you need to be looking.
You can learn more about Meta's latest Reels ad updates here.