It had been rumored for a while, and now, we have official confirmation that Meta will indeed be offering subscription-based, ad-free versions of Facebook and Instagram. But only to EU users.
As part of its compliance with evolving privacy regulations in the EU, Meta's looking to essentially side-step the new GDPR requirements by providing all users with an option to opt-out of all ads, and related data tracking. For a fee.
As per Meta:
"To comply with evolving European regulations, we are introducing a new subscription option in the EU, EEA and Switzerland. In November, we will be offering people who use Facebook or Instagram and reside in these regions the choice to continue using these personalized services for free with ads, or subscribe to stop seeing ads. While people are subscribed, their information will not be used for ads."
The logic here is that Meta, which is now required under EU law to provide a data tracking opt-out for users, is arguing that the value of such data tracking is that it enables it to serve users personalized ads, which, in essence, is how users "pay" for its apps.
If it has to enable an opt-out, then Meta's within its rights to cover its costs, so it's complying with this new regulation by offering a paid version. Which, I'm guessing, few people will actually pay for.
Because it's not exactly cheap.
"People in these countries will be able to subscribe for a fee to use our products without ads. Depending on where you purchase it will cost €9.99/month on the web or €12.99/month on iOS and Android. As is the case for many online subscriptions, the iOS and Android pricing take into account the fees that Apple and Google charge through respective purchasing policies. Until March 1, 2024, the initial subscription covers all linked accounts in a user's Accounts Center. However, beginning March 1, 2024, an additional fee of €6/month on the web and €8/month on iOS and Android will apply for each additional account listed in a user's Account Center."
For context, the current conversion rate for €9.99 is $US10.60, so you'd be looking at $US127 per year to use Facebook.
Given the raft of alternatives, and the fact that you can just continue to use the ad supported version for free, I can't imagine there'll be a heap of takers. But some people will pay, while really, making the option available is the main focus, with actual take-up being less of a concern for Meta.
Though the pricing is interesting.
According to Meta's most recent performance update, it generates, on average, $US19.04 per quarter from each EU user.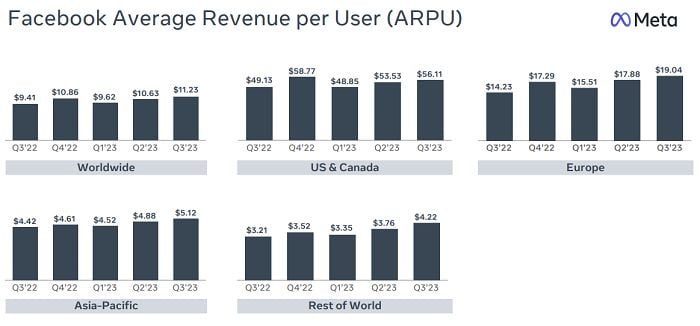 So Meta needs to account for a monthly $US6.34 ad revenue loss per user as they sign up to this program. Pricing at $US10 gives it some wriggle room, and it's interesting to see how Meta's approaching the math when factoring in this element.
X is also now offering an ad-free version, and with the new EU regulations coming into effect, you can expect other social platforms to soon offer the same. Which, again, is less about a new shift towards subscription social, and more about complying with these new rules, though it will be interesting to see whether they become a new revenue pathway, based on demand among users.
I mean, if Meta sells a lot of subscriptions in Europe, they'll probably consider expanding the option to other markets. Again, I doubt that'll be the case, as most people won't be able to justify the expense (particularly in the current economic climate).
But it'll be worth monitoring the progress here, with a view to how subscriptions could become a bigger factor in overall social media engagement.