LinkedIn has announced some new updates for its Collaborative Articles feature, which uses AI-generated prompts as a starting point, and calls on specific LinkedIn users to share their expertise on the chosen topic.
First launched back in March, LinkedIn says that it's now facilitated over a million expert contributions via the format, making it the platform's fastest-growing traffic driver, as more professionals come to share their thoughts in the app.
Of course, there's also the added incentive of getting a Community Top Voice badge in a key skill area, as a result of your Collaborative Article contributions.
That can help to make your profile stand out in-stream, and it's clearly working to drive more users to add their thoughts to LinkedIn's AI-generated prompt posts.
And given that it is driving more engagement, it's no surprise to see LinkedIn further emphasize the option.
First off, LinkedIn's updating the layout of Collaborative Articles to put greater focus on user contributions.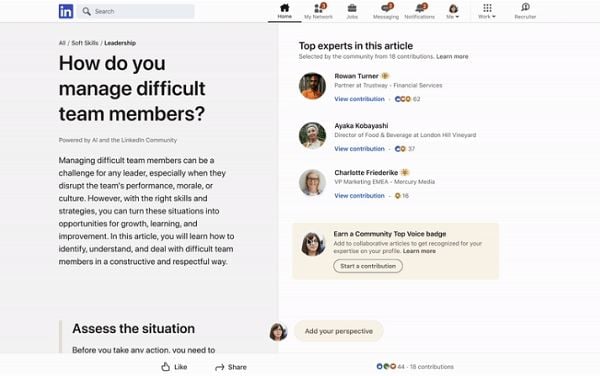 As you can see in this example, LinkedIn will now better showcase contributors at the top of the post, while it's also updated the display format in-stream.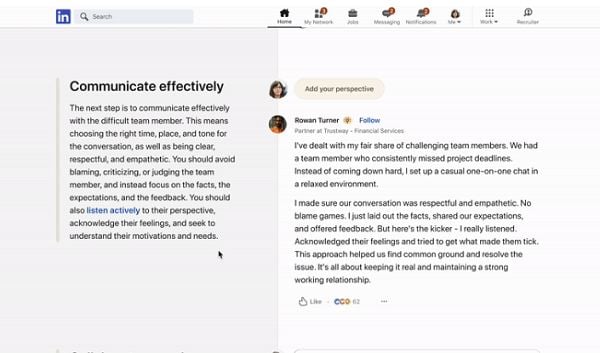 The new display reduces the emphasis on the AI prompt, in order to better showcase contributors, which could be another lure to get more members adding their thoughts and opinions.
LinkedIn's also incorporated its full reaction set in-stream, so you can respond to a Collaborative post with the regular, in-feed emoji characters, while it's also updated the UI to make it easier for readers to skip through the various contributions.
In addition to this, LinkedIn's also improved its Collaborative Article notifications, to help connect users to the most relevant posts that can benefit from their expertise.
LinkedIn says that it's also improved the quality of its AI prompts for articles, which should provide more in-depth, engaging results, while users can now pick the skills that they want to contribute to, by filling in the "Top Skills" section of their profile.
LinkedIn's also improved its systematic understanding of what each user is interested in contributing to, based on their activity in-app, while it's also added a new display of articles that you can contribute to, to make it easier to earn that "Top Voice" badge.
Which is the real driver here. Over time, more users have been getting that "Top Voice" indicator added to their profile in the app, which has made more people want the same, to show off their own expertise and professional standing.
And it does look impressive, so logically, more LinkedIn users now want in, which has made this a clever activation, using AI prompts to drive more in-app engagement.
I mean, everyone wanted a verification badge to enhance their standing on Twitter (till they started selling them), as it adds an additional level of authority, something that elevates you above the crowd.
It's the same on LinkedIn, and if you want a "Top Voice" badge, you have to contribute to Collaborative Articles, consistently, to get it.
It's a smart addition, and these new updates will likely get even more people adding their thoughts in the app.