Oh, wow, what a surprise this is.
Today, as part of Microsoft's Q1 2024 update, the tech giant has once again reported that LinkedIn is seeing "record levels of engagement" among its now 985 million members.
As you can see in this highlight panel, overall LinkedIn sessions increased 12% in the period, reaching new record highs. Though I don't know whether that's accurate, because as I've noted repeatedly, LinkedIn has shared the exact same "record levels of engagement" summary note every quarter (except one) since 2018.
I mean, I guess it could be seeing "record levels" or engagement, relative to audience growth. But it seems unlikely that every single quarter is reaching new highs, over and over again.
I guess part of this is also relative to that growth, in that more users would lead to more sessions overall, but that doesn't mean that each member is using the app more often. If LinkedIn, which has seemingly added 55 million more members since May, is seeing more users log on, that would lead to a growth in aggregate sessions. But that doesn't necessarily mean that it's seeing more engagement on a per-person basis, making it slightly misleading.
Potentially.
In any event, that 985 million user stat is also suspect, because the numbers in this map overview do not add up to 985 million.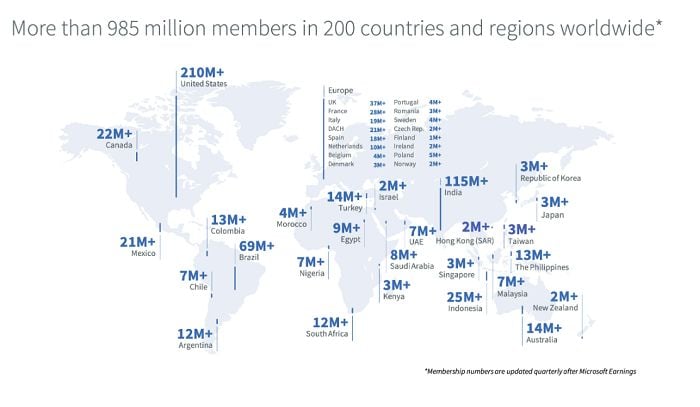 The individual stats listed in this map add up to 723 million, and given that LinkedIn exited China back in May, where it had 59 million members, it seems unusual that its growth momentum has not been impacted at all by the removal of those 59 million profiles.
For context, here's what the LinkedIn map looked like when it had 930 million members, with China included:
So, somehow, LinkedIn has removed 59 million members, and that's had no impact at all on its overall member count, and since then it's added another 55 million more.
Or really, it's theoretically added 114 million new members, when you factor in the China removal. So based on LinkedIn's reporting, it's gone from adding an average of 69 million new members per year over the last decade, to adding 114 million in just 5 months.
Yeah, that doesn't seem right, but that's what LinkedIn's going with.
So LinkedIn now has 985 million members (not users, an important distinction), and it's still seeing "record levels of engagement".
Make of that what you will.
In terms of key growth elements, as you can see in the comparative maps above, the majority of LinkedIn's growth is coming from India, where it's added 10 million more members (reportedly) since last report. India is now the platform's second-biggest market by far, while it also added 8 million more members in the U.S. (reportedly), and 4 million more in Brazil (reportedly).
Microsoft says that LinkedIn membership growth has accelerated each quarter for two years in a row, with its latest boost in engagement coming as a result of its increased implementation of AI, and expanded knowledge-sharing on the platform.
Part of that would be due to its "Collaborative Articles" addition, which uses AI generated prompts to call on LinkedIn users to share their expertise on a given topic.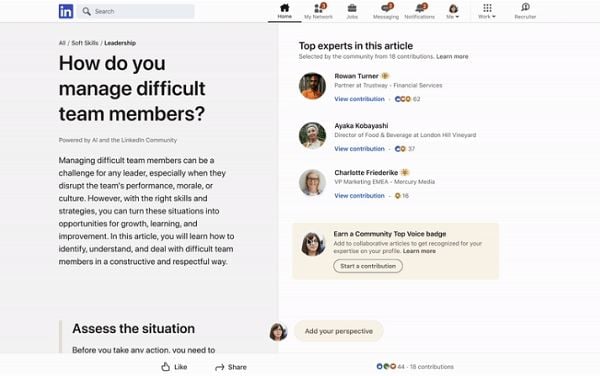 LinkedIn recently reported that over a million expert contributions have been submitted via the format, which has helped to make it the platform's fastest-growing traffic driver.
Microsoft also says that LinkedIn newsletter subscriptions continue to grow, now exceeding more than 450 million sign-ups globally (+3x year-over-year), while LinkedIn Premium subscriptions have also increased 55% year-over-year.
And another point of note:
"Since introducing AI-assisted messages for recruiters five months ago, three-fourths of them say it saves them time. And we have seen a nearly 80% increase in members watching AI-related learning courses this quarter."
I mean, that makes sense. With generative AI tools taking off, more professionals are now looking to up their skills, and show such off in their LinkedIn profiles. But it's interesting to note the engagement with AI-assisted messages in Recruiter, which could help to streamline hiring and feedback processes.
In terms of revenue, LinkedIn's 8% growth came primarily from its Talent Solutions arm, though it has also flagged a decline in bookings due to a "weaker hiring environment in key verticals".
"Growth continues to be impacted by the overall market environments for recruiting and advertising, especially in the technology industry where we have significant exposure."
On another front, Microsoft has also reported that it's now working to integrate aggregated LinkedIn data into its new, AI-based "Skills" element in Microsoft Viva, to provide more insight for Microsoft enterprise customers in-stream. That'll better enable HR leaders to address skills gaps, and ensure that their employees remain abreast of the latest industry shifts.
So, overall, is this a good update from LinkedIn?
I don't know, because as noted, I don't think that the reported total member counts are accurate, while the engagement stats don't really indicate much without relative user growth numbers factored in. But then again, LinkedIn's revenue has increased, while it's seeing good engagement with some of its newer elements.
So it seems like LinkedIn is on the right track, and that its AI focus, in particular, is driving more interest.
Whether that'll lead to ongoing revenue success, however, is not clear.