Instagram's trying out another way to incentivize creators, with a new "Achievements" display, available in "Creator Mode" in the app, which allocates different badges for engagement milestones, like reaching 100 total post likes, 1,000 video plays, and more.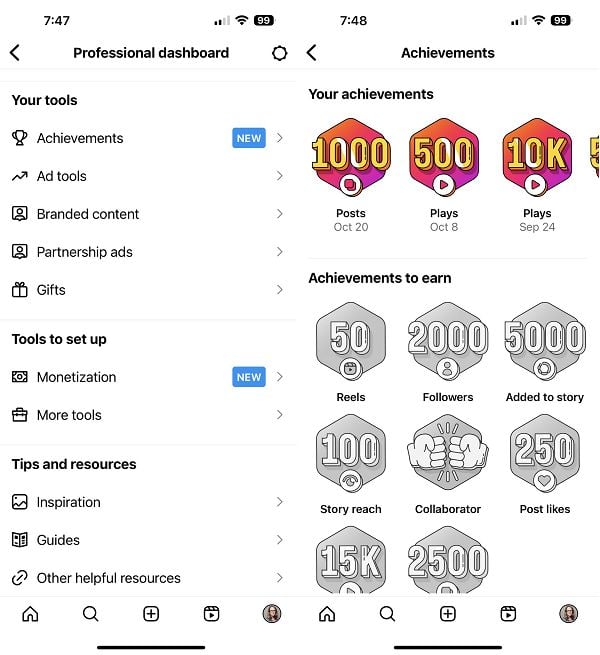 As you can see in these screenshots, shared by influencer marketing expert Lia Haberman, the new "Achievements" display is available in the "Your Tools" section of the "Professional Dashboard" for those who've switched to a Creator Account.
Instagram says that creators can be awarded different levels of badges based on:
Post Likes

Reels Plays

Accounts reached with Stories

Follower Count

Lifetime number of Posts

Lifetime number of Reels

Lifetime number of Stories
In addition, there are also special Achievement badges for:
Collaborating with other creators using

Instagram Collabs,

 or

remixing a reel

Using

interactive stickers

 on your reel like

the Add Yours sticker

, polls, quizzes or questions
Using

trending audio or effects

 in your Reel

Posting more than one reel in a week
So basically, Instagram's trying to lure more creators to keep posting more often, by giving them a made up achievement badge, which is meaningless, but will probably give you a little shot of dopamine for reaching these milestones with your content.
Will that work? Probably.
The most immediate example that springs to mind Snap Streaks, which have almost become religion to many Snap users over the years. To start a Snap streak, you and a friend have to send a Snap to each other every 24 hours for three days, then keep sending reciprocal Snaps every day to uphold the streak.
Some Snap users have maintained 6 year long streaks (and counting), and that compulsion has kept many users coming back to the app.
So in-app gamification like this does work, and as such, it would be unsurprising to see these rewards become a thing that spurs creators on in the app.
It is a little different in this context, given that creators need to post content to reach these goals. But for some, this could well be the extra push that they need to keep going, especially in the early days of building their presence, when they may not be getting as much attention as they would hope.
Instagram's actually been developing this option for over a year, with an initial version spotted in testing last October. It seems now, with the holiday season fast approaching, it's decided to push the new awards to more accounts, in order to get more content flowing through the app over the end-of-year break.  
It'll be interesting to see whether creators care, and how this type of gamification drives activity, or not.
Instagram says that the feature is not available in all regions yet, but it'll likely see a wider roll out over time.