Is Elon Musk really going to start charging all X users to access the platform?
Musk alluded to this possibility in an interview with Israeli Prime Minister Benjamin Netanyahu on Monday, though he didn't outright say that this is going to happen.
In response to a question about combating bots, Musk said that:
"The single most important reason that we're moving to having a small monthly payment for use of the X system is that it's the only way I can think of to combat vast armies of bots. Because a bot costs a fraction of a penny, or a tenth of a penny, but if somebody even has to pay a few dollars or something, some minor amount, the effective cost of bots is very high, and then you also have to get a new payment method every time you have a new bot."
Musk also said that X would soon offer a cheaper version of its X Premium subscription offering, and in combination, many have taken these remarks as Musk pointing to a new subscriptions push at the app, which will eventually see all users forced to pay up if they want to keep using it.
Which, again, isn't exactly what Elon said. Though he has also pointed to this several times in the past.
Back in March, Musk posted that, eventually, in his view, "paid account social media will be the only social media that matters". That was also in relation to a discussion about bots, and Musk's view that generative AI will make it much easier for spammers and scammers to create bot armies.
Even earlier than that, in February, Musk remarked that it was "inevitable" that all social platforms would move to subscription offerings, while in November last year, shortly after Musk took ownership of the app, Platformer reported that Musk had actually held internal discussions about paywalling the platform completely.
"One such plan might allow everyone to use Twitter for a limited amount of time each month but require a subscription to continue browsing, the person said."
So while it may seem like people are reading a little too much into Musk's comments this week, the proposal has been floating around for some time, as Elon and Co. look to tackle the platform's bot problems, while also reducing its reliance on ad revenue, which remains well down on pre-sale levels.
So could a full X paywall be realistic?
Users are clear in their opposition to the plan, with a poll we conducted with our audience on LinkedIn (1,945 responses) indicating that 96% of people would not pay to keep using the app.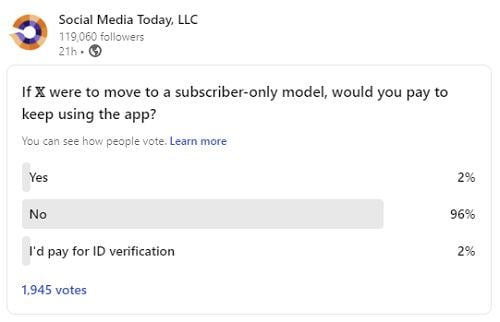 Note the final option here. X recently launched a new pilot program around voluntary ID confirmation, in partnership with "forensic identity intelligence" company au10tix, which will see X outsource some of the manual workload around ID confirmation to a third party. That could enable X to implement broader identity verification into its system, and maybe, through this, and via additional third-party partnerships, that could be another way for X to stamp out bots, though it will also need to pay its partners for such.
Maybe this is where X's cheaper verification offering will come in, with users paying to essentially confirm their real identity, which would still bring in some money for X, while also helping with the bot challenge.
Though as the poll suggests, even that might be a hard sell, and it'll be interesting to see whether X is actually able to get more people to pay, and how they might incentivize them to do so.
X Premium continues to see very low take-up, despite now offering subscribers the opportunity to get paid for their posts in the app. Based on the latest research from Travis Brown, who's been tracking X Premium (formerly Twitter Blue) takeup, there are currently around 1.1 million subscribers to the program, a number that has grown over time, but still represents fewer than 0.5% of all X users.
Part of the problem here is that, by X's own admission, around 80% of the platform's users never post to the app, they just read the posts in their timeline. As such, most of the add-ons in the X Premium package are not of much value, and it's hard to see how X can get more people to pay to use the app when they only come to read content.
Which, again, points to limiting access, potentially behind a paywall.
It may not be popular, but it could be the only way to get more people to sign up, while also connecting their payment details into X, another key step in this process.
If Elon wants people conducting a broader range of activities in the app, payments are a key element, and as such, linking a payment option into X would be a significant step within itself, aside from the revenue considerations.
So there are a range of reasons that point to X potentially restricting access to non-paying users. It would be a big risk, which could be the beginning of the end for the app. But really, even if a relatively small amount of users pay, that could still be a pathway to building a more viable business.
It would be an extreme step, and one which I'm still not convinced that X would take, while it would also amplify the opportunity for competitors (note: Bluesky saw a surge in sign-ups yesterday after Elon's interview).
But if Elon truly believes that paid social is the only way forward, and that his "everything app" vision is possible, maybe this could actually happen.
And that would really test people's commitment to his X vision.