Social media usage behaviors are always changing, sometimes in subtle ways that take a while to become obvious, but sometimes in fast-moving shifts that rapidly become the norm.
Like short-form video. With the arrival of TikTok, short-from video quickly became the key trend in social media engagement, and is now the fastest-growing content format in most apps. That's also amplified a more significant change, in people using social media platforms for entertainment over connection. In the past, people had been excited to share their personal updates on Facebook and Instagram, but the increasingly divisive nature of social apps has made people more wary about sharing their thoughts in public, which has led to an increase in users creating more intimate DM groups, while using their social feeds to discover and consume content.  
These are the types of major shifts that are altering the social media landscape, and which all social media marketers need to be aware of, but what are some other key trends of note in 2023?
Every now and then, we run polls with our audience on different platforms to get a sense of how they feel about key updates and changes in the social media sphere.
In this post, we'll take a look at some of our more recent polls, and how they relate to some evolving trends.
A disclaimer: Polls on social apps are not always indicative, and will generally weigh more towards the platform you're running them on. For example, if you run a poll about LinkedIn on LinkedIn (like the one below), you're likely going to see a bigger swing in favor of the host platform, but even so, the results can still reflect broader trends, depending on the context.
1. More people are using LinkedIn, more often
Last week, we ran this poll on LinkedIn to get a sense of how people are using the app in 2023.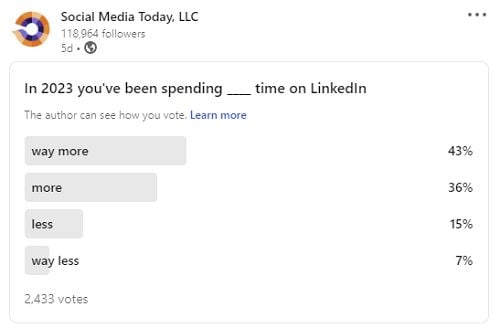 As you can see, based on 2,433 responses, the vast majority claim to be using LinkedIn "more" or "a lot more" this year.
As noted, this will be somewhat biased, because we asked the question on LinkedIn, so of course, people who are active on LinkedIn are more likely to see it. But it does also align with LinkedIn's own data insights.
Last month, LinkedIn reported that sharing of original content in the app increased by 41% year-over-year in 2022. It's also continued to rise this year, with LinkedIn reporting "record levels" of engagement within parent company Microsoft's quarterly reports.
However you look at it, LinkedIn is clearly doing something right, while it may also be benefiting from an increase in usage as some communities migrate away from Elon Musk's X.
Which is another platform we recently asked our audience about.   
2. X's name change remains unpopular, while advertisers remain wary
Over on the platform formerly known as Twitter, we recently asked users how their in-app experience has been this year.
In 2023, your experience on X has been:

— Social Media Today (@socialmedia2day) September 12, 2023
So while the most popular single experiential response was "worse", on balance, the majority of respondents indicated that their experience on X has either improved or remained the same this year (36.5% of responses).
There were only 184 responses, so it's a very small subset of X users, and as such, it may not be indicative. But it does provide some measure of how users are seeing the re-named app, with most people, in general, seeing X as fairly similar to what it has been in the past, even with the more recent changes.
But the main point of note here is that most people still view the app as "Twitter", no matter what its new name might be.
That'll eventually shift, but it does suggest that the re-brand will be an ongoing evolution, as most users are habitually aligned with "Twitter" and "tweets," as opposed to "X" and "posts."
Also, most brands are still hesitant to wade back into the X waters.
As you can see, based on almost 1,500 responses to a LinkedIn poll, the feedback is overwhelmingly against X ads right now.
That directly aligns with recent statements from Elon Musk, in which he noted that U.S. ad spend on X is down 60% year-over-year, a decrease from the 50% decline in U.S. brand spend that he reported back in April.  
Elon's controversial personal stances, and X's changing approaches to moderation, still have many marketers spooked, and it'll be interesting to see whether Musk changes course in this respect, as ad spend remains down, or if X can broaden its income streams, through other options, to counter these declines.
3. Instagram remains hugely popular, despite replicating other app features
This is interesting. Based on a LinkedIn poll, which received more than 3,200 responses, Instagram is the platform that people are still using more often than any other app.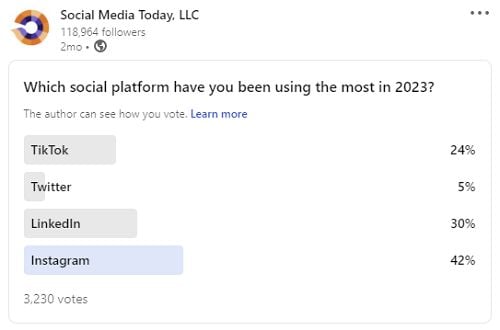 Of course, this is audience relative. Other polls indicate that TikTok is the most popular app among younger audiences, while there's also a limited set of options to include in a LinkedIn poll, so it could be that YouTube would be higher than some on this list as well.
But from these four options, among Social Media Today's audience on LinkedIn, Instagram remains the most popular app, which is a bit of a surprise given the aforementioned platform bias of such polls.
This could be viewed as an endorsement of Instagram's replication efforts, which many have criticized, but can be an effective way to keep its users from drifting off to other apps.
Indeed, Instagram's replication of Snapchat Stories all but killed Snapchat's growth back in 2017, forcing Snap to re-align its efforts, while many IG users have now also stayed loyal to the app, as opposed to downloading TikTok and adding another platform into their mix.
Replicating features may be viewed by some as a cheap tactic, but the results speak for themselves, and I would suggest that the rise of Reels has had a big impact on keeping at least some user groups aligned with IG, instead of spending more time on TikTok instead.
Does that mean that you should forget about marketing on TikTok, because people are still on Instagram? It depends on your audience. Again, most research suggests that more youngsters are active on TikTok, but Reels is like a more adult-friendly version, so if you're targeting older users (25+), maybe Instagram is where you should be focused.
These polls are indicative of some of the smaller engagement shifts happening within social media circles which could weigh into your planning heading into the end of the year. And while these are not indicative of major trends, like the shift to social entertainment, it is worth taking note of what the polls highlight, though it's also important to consider the audience responding to each when considering such results.